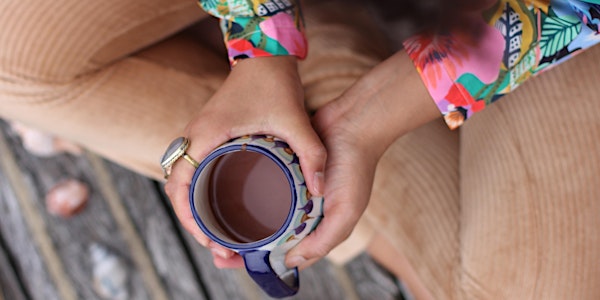 Cacao Ceremony
Cacao Ceremony II Sunday 13th November 4:00PM - 6:00PM @Bluebirds West II You are so welcome to join the circle
When and where
Location
Bluebirds Yoga West | Yogastudio Amsterdam 4-8 Jan Evertsenstraat 1056 EC Amsterdam Netherlands
About this event
Cacao Ceremony
II Sunday 13th November 4:00PM - 6:00PM @Bluebirds West II
You are so welcome to join the circle.
This ceremony is an invitation to connect to your heart, to sit with yourself & explore your inner world & to connect with the spirit of the cacao, our guides, ourselves & higher self.
Let this ceremony be a gift to your soul. Let's open our hearts. Let's welcome the magic.
Each ceremony is unique and different.
The Power of Cacao:
Cacao is a beautiful & gentle plant medicine.
It will invite you to open your heart and guide you through an inner journey.
Cacao is one of the highest natural sources of antioxidants and one of the highest sources of magnesium known to man. It also contains calcium and magnesium in perfect ratios that are fully absorbable by the body. It is also high in an extensive number of vitamins and minerals, including B vitamins, vitamins A, C and D, calcium, zinc, copper and potassium.
Practical information:
Where: BlueBirds Amsterdam West (Jan Evertsenstraat 4-8, 1056 EC Amsterdam)
When: Sunday 13th November 4:00PM - 6:00PM
What to bring: Comfortable clothes, a bottle of water.
Optional: Crystals, notebook, sacred objects, your own cup.
Good to know: Is best to not drink coffee on the day of the ceremony and to avoid eating two hours prior to the ceremony to be able to fully connect with the cacao.
If you are on antidepressants, listen to your body, it's recommended to not drink more than a few sips of the cacao. (cacao and antidepressants do not mix well and can have harmful side effects: heavy headache) If you are pregnant, listen to your body ( maybe have a small cup of cacao)
Facilitator:
Hélène - The 8 Moons ( Channeler & Ceremonial Facilitator)
She is in love with life, deeply connected to the cacao medicine, her higher-self , the moon & her spirit animal. She will offer you a safe & sacred place where you will have the opportunity to dive deep into a healing & loving inner journey.
If you have any questions feel free to reach out : the.eight.moons@gmail.com // Instagram: https://www.instagram.com/the.8.moons/
Lots of love
Hélène - The 8 Moons