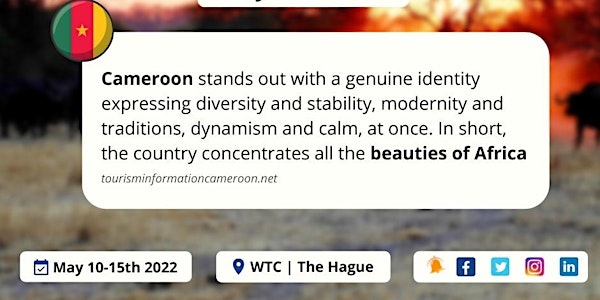 Cameroon Cultural Week - May 2022
Event Information
Location
Pr. Beatrixlaan 582
582 Prinses Beatrixlaan
2595 BM Den Haag
Netherlands
Cameroon Cultural Week - Business opportunities - Music - Sport Legends
About this event
In order to give a fresh impetus to the relationship between Cameroon and the Netherlands, the Cameroon Embassy in The Hague is organizing Cameroon's Economic and Cultural Week in the Netherlands between May 10 through 15, 2022.
During that Week, the Embassy aims at widening the scope of interaction between the two countries. Henceforth, the workshops, debates and conferences scheduled within that period range between IT industry, import and export trade, business to business (B2B) and business to Government (B2G) meetings, agribusiness, tourism, music, fashion and many more pleasant surprises. It will also be an opportunity to introduce the Cameroonian savoir faire to the Dutch public. This event targets investors, the media, Cameroon diaspora and even diplomatic missions and international organizations accredited to Cameroon.
As part of bilateral development cooperation between both countries, the Cameroon Minister of External Relations, Lejeune Mbella Mbella and some mayors from Cameroon will be part of this great occasion and will exchange with the Mayor of Wassenaar and some Dutch authorities. Also on the agenda, we have field trips to some Dutch historic and renowned places and a gala night.
Be there!
P.S.: Please, be aware that tickets and registration ARE NOT NEEDED TO ATTEND THE EVENT!
The availability of "tickets" and request of "registration" are there because that is part of the publishing policy of Eventbrite. The Embassy of Cameroon requires no (online) tickets nor registration to attend the event.
Date and time
Location
Pr. Beatrixlaan 582
582 Prinses Beatrixlaan
2595 BM Den Haag
Netherlands