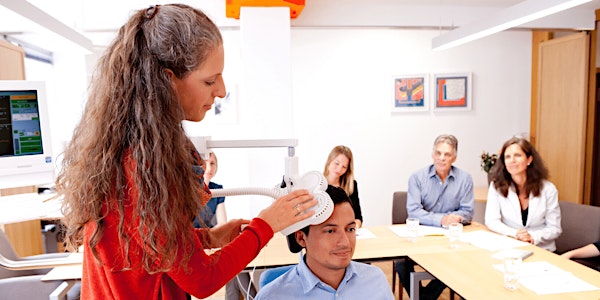 CANCELLED / rTMS in Depression, OCD & New Developments: Practical Workshop
This is a practical hands-on training day for qualified healthcare professionals looking to apply rTMS in their own practice.
When and where
Location
neuroCademy Nederland Bijleveldsingel 34 6524 AD Nijmegen Netherlands
About this event
Hosted by Drs Marleen Stam, Global Trainer, Psychologist, rTMS and Neurofeedback Specialist for neuroCare Group Netherlands and Drs Myrthe van Eerdt, GZ-psychologist, rTMS and Neurofeedback Specialist for neuroCare Group Nijmegen.
In this practical training workshop, participants will be given ample time to test and experience rTMS / TMS technologies following evidence-based protocols. Participants will work in groups to gain practical experience in coil placement and control of TMS systems and settings.
Participants will gain familiarity with the following Neurofeedback systems:
MagStim Rapid
Deymed DuoMag rTMS Stimulator
MagVenture MagPro R30
Learning components covered in the training day include:
Preparing the patient and marking the DLPFC
Marking the SMA
Finding the Motor Threshold
Placing the coil over right DLPFC
Placing the coil over left DLPFC
Placing the coil over SMA
Safety aspects of rTMS
PLEASE NOTE: Before attending this practical workshop, participants are expected to have completed the online self-paced course on the neuroCademy LMS course: "rTMS in Depression, OCD & New Developments", for a full understanding of theory and background of TMS protocols and principles. The LMS enrolment fee is purchased separate to this practical workshop.Click here for further details or to enrol in the LMS.
This workshop is open to:
(Registered) Psychologists
Clinical Psychologists
Neuropsychologists
Psychiatrists
Students & Researchers in Human Sciences
If you have any questions about this training, please write to nederland@neurocaregroup.com or call 0031 (0)24 7503507.