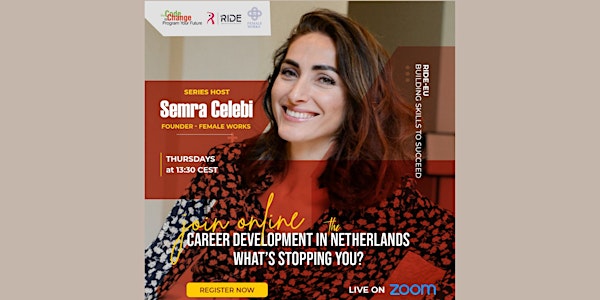 Career Development in The Netherlands
Are you interested to discover your true potential and finding a way to build your career in the Netherlands?
About this event
The Code to Change is proud to partner with Semra Celebi, founder of Female Works to host inspirational talk sessions on personal development and growth. These talk sessions are a part of the RIDE EU project that aims to reach inclusion through digital empowerment for migrant and refugee women.
Introduction of the Speaker
Semra Celebi is a leader in the field of career and business coaching and the founder of Female Works. Female works aim to empower women to achieve their business and life goals. Whether you are thinking about starting, or growing your business, or you're about to embark on a life-changing decision, Semra Celebi will help you to reach your full potential.
About the session
The RIDE EU coaching and mentoring session are a series of online events where topics from career development to personal development are discussed. Topics like
2 June 2022 - How to deal with your inner critic
9 June 2022 - How to develop an entrepreneurial mindset
23 June 2022 - How to develop a growth mindset to reach your goals
TBA - How to find your passion—and make a living out of it
TBA - How to let go of praise and criticism
TBA - Money Mindset
are addressed one by one each week where our expert speaker, Semra Celebi, will share with us the tools to make our personal growth journey an amazing one.
If you want to shine through your journey and towards your goals, don't miss out on our session on Thursday where you will learn to take steps to understand your strengths and reach your full potential.
If you are someone who wants to transform their lives, these sessions are for you
This project is funded by the European Union's Asylum, Migration and Integration Fund (AMIF).