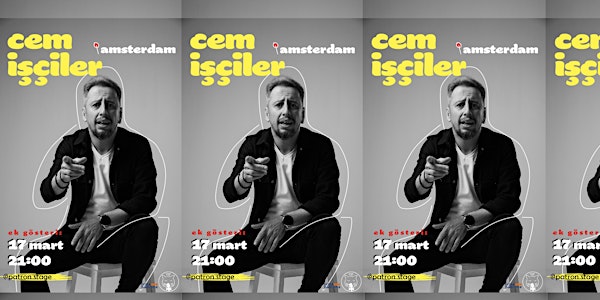 Cem İşçiler tek kişilik ek gösterisiyle 17 Mart 21:00'da Patron Stage'de!
Cem İşçiler tek kişilik gösterisiyle 17 Mart'ta Amsterdam Patron Stage'de! Kapı açılış 20:45, gösteri 21:00'da
When and where
Date and time
Friday, March 17 · 9 - 10:30pm CET
Location
Patron Stage 63 Potgieterstraat 1053 XV Amsterdam Netherlands
Refund Policy
Contact the organizer to request a refund.
Eventbrite's fee is nonrefundable.
About this event
Cem İşçiler'in ilk gösterisinin biletleri bir günde tükendiği için ek gösterisiyle karşınızda!
20:45'te kapı açılacak ve 21:00'da Cem İşçiler tek kişilik gösterisini yapacaktır.
3 sezondur yaptığı talkshow programı ''ÇimenShow'' ile tanınan ve ardından podcast olarak başladığı ''Anlatamadım'' programı ile Türkiye'nin en çok dinlenen radyolarından Metro FM'e transfer olan Cem İşçiler, 500'den fazla kez sahnelediği stand-up performansıyla Amsterdam'daki sevenleriyle buluşmaya geliyor.
Etkinlikte 18 yaş sınırı vardır. Etkinlik süresince video çekmek yasak olsa da fotoğraf çekmek ve paylaşmak serbesttir.
Patron Stage, Potgieterstraat 63 Amsterdam adresinde yer alan, bir grup komedyenin bir araya gelerek oluşturduğu, İngilizce ve Türkçe etkinlikler düzenleyen bir komedi kulübüdür. Gösterilerin düzenlendiği Pizza Padrone, insanlara sıcak samimi bir ortam, italyan usülü pizza, şarap, bira ve soğuk kokteyller sunarken, aynı zamanda Amsterdam'da Türkler tarafından işletilen "en iyi 500" italyan restoranından biri olmasıyla ünlüdür.