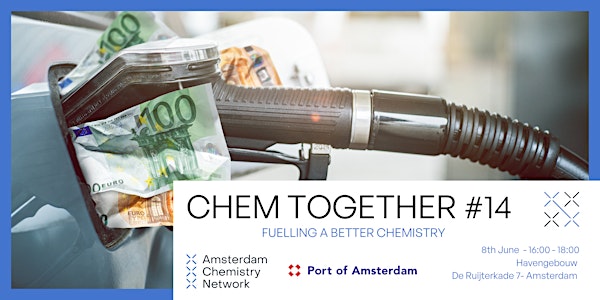 Chem Together #14
"Fuelling a better chemistry". Let's do it together. Join us: it is free!
By Amsterdam Chemistry Network
Date and time
Thursday, June 8 · 4 - 6pm CEST
Location
Havengebouw - De Ruijterkade 7 Amsterdam De Ruijterkade 7 1013 AA Amsterdam Netherlands
Agenda
4:00 PM - 6:00 PM
Chem Together #14
About this event
Chem Together is the Knowledge&Networking event by ACN, where chemistry professionals come together to share ideas and make new connections.
The second edition of 2023 is now announced: Save The Date!
16.00-16.15: Port of Amsterdam: Welcome and "circular initiatives at the Port".
16.15-17.40: GoodFuels. Better Future on innovation for a fossil-free transportation.
16.40-17.10: ROM InWest and Innovatiefonds Noord-Holland on funding schemes for startups to SMEs.
17.10-18.00: Drinks and networking.
CHEM TOGETHER #14 will happen in the Havengebouw, next to Amsterdam Central Station, with an outstanding view on the IJ!
Meet our speakers:
Felipe Ferrari, PhD - GoodFuels Long-Term Innovation Lead - After attaining a PhD in Applied Sciences and Bioenergy from TUDelft and UNICAMP, Felipe has built up solid experience in bioprocess engineering and biorefinery. As the Long Term Innovation Lead at GoodFuels, Felipe and his team are actively researching new fuel technologies like e-fuels and converting waste streams into fuel feedstocks. In addition, they are actively involved in numerous mid to long-term, EU-backed fuel innovation projects like NEXTGEN Roadfuels, IdealFuel, MUSIC (Market Uptake Support for Intermediate Bioenergy Carriers), BioSFerA (high-performing biofuel for aviation and marine use), and MAGPIE (Multi-modal green ports).
Sander Vester - Business Developer at InWest - Regional Development Company InWest helps entrepreneurs who strengthen the regional and circular economy of North-Holland. They support not only innovative and strong startups, scale-ups and SME, but also help to speed up the energy transition and the transition to a circular economy. They do this with their people, their network and their investment funds.
Wessel van der Woude - Investment Manager at INH - Innovation Fund Noord-Holland funds innovative startups and SMEs in the Province of Noord-Holland in the very early stages; Proof-of-Concept (TRL 3 – 5). We provide CLAs from 50.000 to 350.000 euro's. INH is sector-agnostic; we invest in different kinds of industries, as long as the project is developing a new or innovative solution.
Event language: English
Register Now to Guarantee Your Spot.
More information: info@acnework.nl
About the organizer
Disclaimer: We often take pictures and photos during the event, they will be posted on the ACN website and social media channels. If you have any questions or concerns, please send an email to info@acnetwork.nl