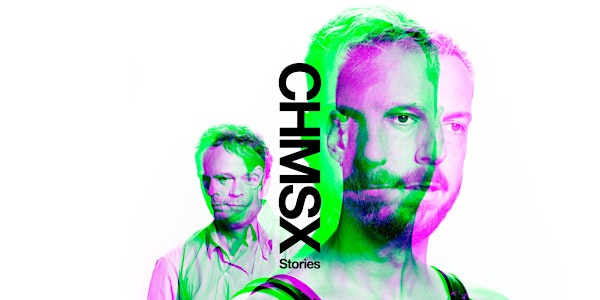 CHMSX Stories in club chUrch. 02-08 - 20.30
Caleidoscopisch muziektheater over rauwe randjes.
When and where
Location
Club Church 52 Kerkstraat 1017 GM Amsterdam Netherlands
Refund Policy
Contact the organizer to request a refund.
Eventbrite's fee is nonrefundable.
About this event
Theater van de Heelheid verzamelde afgelopen jaar verhalen over het taboeonderwerp: chemsex - sex onder invloed van drugs. Deze eerlijke, spannende, mooie, eenzame en ook rauwe verhalen vormen samen: CHMSX Stories.
Onze acteurs, uit drie verschillende generaties, schakelen in deze mozaïekvertelling virtuoos tussen de verhalen. Daarbij worden we opgezweept door de pompende live soundtrack van componist en muzikant Marc Alberto.
Hitsig, heet, uitdagend, verlangend zijn we, maar ook eenzaam, verdrietig en bang. Deze voorstelling wisselt net zo edgy en grillig van sfeer als een avond chemsex zelf.
Hilarisch apestoned en dan weer helemaal nuchter zijn we op zoek naar onszelf, elkaar en naar een beetje liefdevolle aandacht in deze snel veranderende wereld.
Tussen alle verhalen door spijkeren we je ook even bij met een snelcursus CHMSX. Deze wordt gegeven door Willem van Aken, drugsexpert bij Jellinek Preventie. Na elke voorstelling is er een nagesprek met een zorgmedewerker.
Hoewel CHMSX Stories LHBTQI+ georiënteerd is, is het onderwerp universeel. De zoektocht naar liefde herkennen we allemaal. Daarom is iedereen (18+) heel welkom.
Credits
Tekst: Kes Blans en Thomas de Bres.
 Schrijfbegeleider:Rob de Graaf
. Producent theater:Thomas de Bres
. Uitvoerend producent: Lotte Heeman. 
Geluidsontwerp: Marc Alberto. 
Regie:Thomas Schoots. Techniek: Rik van der Veen en Vincent Romijn. 
Campagnebeeld: BUROBRAAK. PR Floyd Koster en Lonneke van Eden: Bureau Tamtam.
Cast

Kes Blans
, Thomas de Bres, 
Manuel Groothuysen
, Marc Alberto (live muziek)

CHMSX Stories worden gesteund door: AFK, VSB, Haella, Diaconie Evangelisch Lutherse Gemeente Amsterdam, MAEX, Amerpodia en club chUrch.
Onze voorstelling is tot stand gekomen m.m.v.: GGD Amsterdam, Pink Unity, Jellinek JOT, Mainline, Choices Support Center, Mind your sex, Adam Schultz Yoga, Het Drugspastoraat.
Theater van de Heelheid dankt met heel haar hart: 
ITA, Amsterdam Pride, Benjamin Boer, Ilias Zian, Jonne ten Braak, Ad van Dam, Gijs Stork, Elly Ludenhof, Bob van Toor, Carie van Tetterode, Rodger Buyvoets, Martijn de Kuiper, Judith Baehner, Gerrit Jan Wielinga, Wild Child Agency, Wielie Elhorst, Oude Lutherse gemeente Amsterdam, Bianca Gallant en alle verhalenvertellers.