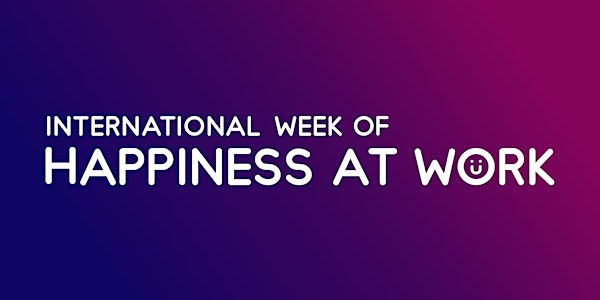 CHO - Coach Camp - Unconference (Week of Happiness at Work)
A Coach Camp/Unconference for Happiness at Work practitioners who are passionate about the topic and willing to share what they've learned.
Refund Policy
Refunds up to 1 day before event
Eventbrite's fee is nonrefundable.
About this event
CHO Coach Camp is about creating a network of practitioners in Happiness at Work who are striving to push the limits in helping companies build Positive workcultures and enhance Happiness at Work, while staying true to the values and principles of the Happiness at Work movement: that people are at the heart of everything. Happiness at Work has four pillars: purpose, people, progress and positivity, those four should always be at the heart of everything we do. We invite practitioners who, like you, are passionate about their work, active in the field and willing to share what they've learned.
Is this for you?
Do you have a technique or practice worth sharing with your peers? Or an idea you'd like to test out with some leaders in the community? Are you facing challenges and want to get some perspective from other practitioners, or hear how they do things? Want to connect to others, talk, discuss, explore ideas, then this Online conference is for you. If you prefer a conference where you can sit and listen to expert lectures, this isn't it. There are no speakers, only participants. Should you like to hear from experts in the field, then join the Global Online Happiness at Work Summit (see the website of the International Week of Happiness at Work for the link).
How does it work?
CHO Coach Camp is a practitioner-run UNconference for peer-to-peer learning and exploration. It's your conference, so there will be no agenda until you arrive! We will create it collaboratively. We use the OpenSpace meeting format, which means you, the participant, determine the topics and questions that you want to talk about. We'll create our agenda at the beginning of the meeting and people will then join the small group discussions that interest them. Open Space is all about self-organizing and empowered teams. Open Space will allow YOU and other participants to bring to the conference the issues and opportunities that are emerging for you in real time. For some of you this will also be a first opportunity to experience Open Space, yet another effective tool you should know about, for cultivating communities of practice in your region.
You don't have to be an expert to propose a topic or ask a question at CHO Coach Camp You are simply inviting people into a conversation with you - other people who are also passionate about your topic or question. These conversations can build knowledge, and often lead to future collaborations; Open Space is great for networking! It has the feel of a good coffee break, where people are free to come and go from conversations as they please, yet it has a structure that helps you to know what conversations are happening so that you can join up with people interested in the same things as you.
The only thing you need is a computer with video and audio and a (free) Zoom account.
So, are you ready for an afternoon of inspiration, connection and active learning? Then register now!
-----
Are you a WOOHOO Partner? Then you register for free as part of your partnership advantages. Contact fennande@happyoffice.nl for your discount code. Interested in becoming a member of the biggest international network of Happiness at Work Practitioners, set up by Alexander Kjerulf, best selling author and world known expert? https://woohooinc.com/partners/about/