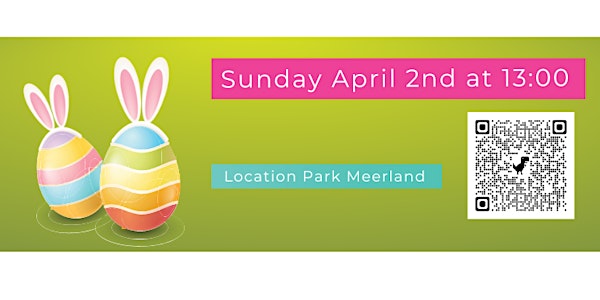 Chocolate Egg Hunt/Paaseieren zoeken in Park Meerland
Remember the chocolate egg hunt in Meerhoven park? This year the event is ON :) Be sure to register and check out details and pictures below
By Meerhoven Internationals Platform
Date and time
Sun, 2 Apr 2023 13:00 - 15:00 CEST
Location
Park Meerland Big green area 5658 Eindhoven Netherlands
About this event
Meerhoven Internationals Platform would like to invite you and your children to an Easter chocolate egg hunt in Meerhoven (Park Meerland) on Sunday, April 2, 2023 as of 13:00h.
Meeting point: the big green area in the park, close to the playground.
Weather permitting, the egg hunt will be followed by a picnic brunch. You are more than welcome to bring along some food to share. Why not bringing some Easter specialties from your country of origin? Or whatever you fancy sharing with the others. The previous years it was a big success, we hope to repeat it.
(!) Important notice (!): We recommend NOT to bring any food containing peanuts or nuts because sometimes there are children with severe peanut allergy.
Children of all ages are welcome! Do not forget to bring with you a small basket to collect your chocolate eggs! And please be on time, otherwise, no eggs will be left ;-)
The event is free but a registration is required for 2 reasons:
- we need to plan the supplies accordingly;
- if we need to change the starting hour because of the weather, you will receive the update on time.
The event is open to the local international and Dutch community! This is a nice opportunity to meet new people and spend some nice time together with your neighbors, so do not miss it out!