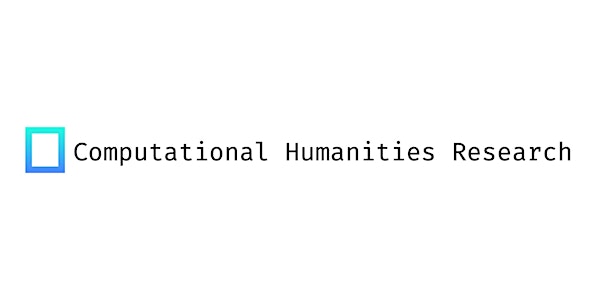 CHR2020: Computational Humanities Workshop
First online workshop on Computational Humanities Research
About this event
EVENTBRITE REGISTRATION HAS CLOSED
IF YOU STILL WANT TO PARTICIPATE GO TO:
https://discourse.computational-humanities-research.org/
The Computational Humanities Research community is an international and interdisciplinary community that supports researchers with an interest in computational approaches to the humanities. Ultimately, the goal of the community is to set up a research-oriented, open-access computational humanities journal.
The workshop on Computational Humanities Research (CHR) will be an online event. It will showcase the latest research that applies computational methods to answer questions relevant to the humanities.
Talks will be broadcasted via Zoom and participants can view and join in the Q&A. Participants are also invited to join our Discourse forum. On this community forum, participants can view the talks again, pose questions to the speakers, and engage with other participants in in-depth discussions.
The keynotes for the workshop are Anne Kandler (Department of Human Behavior, Ecology and Culture of the Max Planck Institute for Evolutionary Anthropology) and Dong Nguyen (Department of Information and Computing Sciences, Utrecht University).
The workshop is organized by the DHLab of the KNAW Humanities Cluster and The Alan Turing Institute.
Organizers: Barbara McGillivray, Marieke van Erp, Folgert Karsdorp, Adina Nerghes, Melvin Wevers