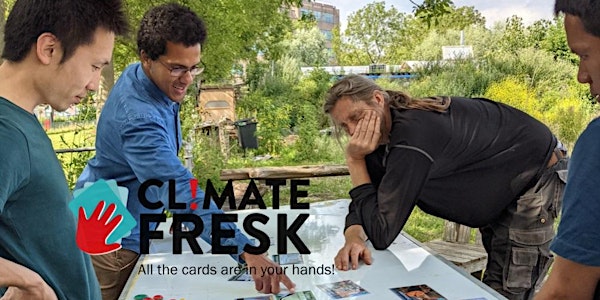 Cimate Fresk Workshop
"Climate Fresk" is a fun, participatory and creative worksshop with 42 cards to understand the last IPCC report
When and where
Location
Wijkcentrum Het Couvéehuis 139 Frankenslag 2582 HJ Den Haag Netherlands
About this event
The workshop is given in Dutch and English by Marcus Banai and Maxence Menthon all are welcome!
You can also use this link: https://climatefresk.org/world/registration-workshop/general-public/
English:
Faced with the climate emergency, we believe that everyone needs to be trained on the basics of climate science, in order to understand the situation, collectively accept the structural changes that need to be made, and start taking effective action. The Climate Fresk game allows you to take ownership of the subject of climate change and using a fun game your approach climate change in a creative way, using dialogue and work together to find ways to make the difference.
How is the workshop set up?
The 3 stages of the workshop are as follows:
BUILD: Discover and link the cards to create the Fresk.
CREATIVITY: Take ownership of the Fresk by adding illustrations and a title
DEBRIEF : Share with other players your feelings, opinions, questions and solutions.
Nederlands:
Klimaatverandering is erg complex. Wil je beter begrijpen wat de oorzaken en gevolgen zijn van klimaatverandering? Dan zou je de wetenschappelijke IPCC-rapport kunnen bestuderen, dat is stevige kost. Een leukere én snellere manier is deze kennis op te doen, kan door middel van het klimaatspel Climate Fresk. Met je medespelers leer je op een creatieve manier over klimaatverandering en ga je met elkaar in gesprek over mogelijke oplossingen en acties om het tij te keren.
Hoe verloopt het spel?
Het spel is georganiseerd in 3 fasen:
LEER: Je verzamelt je rond een tafel met een team van. Samen ontdekken jullie de 42 kaarten die betrekking hebben op de verschillende aspecten van klimaatverandering en werk je samen om oorzaak-gevolg verbanden vast te stellen.
CREËER: Je personaliseert de collage door illustraties en een titel toe te voegen.
VOEL & HANDEL: Je deelt met andere spelers je gevoelens, vragen en gedachten en samen bespreek je ideeën voor oplossingen en acties.