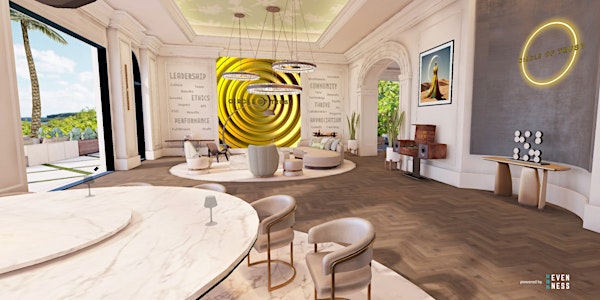 Circle of Trust // Special
Curious about Web3 & the opportunities for you and your business? Welcome to our Circle of Trust!
About this event
Circle of Trust is the first Metaverse-based virtual community solely designed for C-Level women and non-binary individuals who want to leverage the power of Web3 to build the future. We welcome CxOs, VPs & Executives who have a strong track record of achievement in their industry and who create a positive impact for the benefit of society.
With most of our initiatives happening virtually, in our prestigious HQs in the Metaverse, members also benefit from having direct, on-demand access to:
members of our community;
experts from the New & Emerging Technology , Leadership & Diversity Equity & Inclusion domains;
PR agents & content writers in support of their branding across continents;
Executive Search Firms to create new opportunities.
For those of you who are already making strides in Web3 we also offer:
Digital & NFT artists & designers who can support you in launching your digital twin or your NFT collection;
Speaking opportunities at the leading industry event stages, incl NFT NYC, Arab Meta Summit, World Summit AI, DCENTRAL, TNW Conference, and other events;
Participation in podcasts & fireside chats.
We think you'll be impressed and intrigued by the metaverse! We are also offering you the opportunity to book Metaverse space for your events or build your own unique virtual hub.
Join us at the event to learn more & apply to become a member!
---
PROGRAM (Dec 12th; starting at 11am PST / 2pm EST / 8pm CET):
5 min - Opening remarks - Heena Jethwa, Founding Partner of Circle of Trust, C-level Leadership & Transformation Coach, former Digital Workplace Lead at IBM Benelux
5 min - Keynote speech "Are you ready for Web3?" - Dr. Anino Emuwa, Founder, 100 Women@Davos and Africa Women CEOs Network, Managing Director at Avandis Consulting
5 min - Presentation of the Circle of Trust - Eve Logunova-Parker, Founder & CEO of Evenness, Founding Partner of Circle of Trust
20 min - Fireside chat "Web3: The State of Urgency". Host: Heena Jethwa.
Speakers:
=> H.S.H. Princess Alessandra von Bismarck, CEO at Bismarck Family Office // Advisory Board at Dynasty Global Investments BR
=> Carly Howard, JD, LLM, Of Counsel, Asset Management & Investment Funds (Crypto & Digital Assets) at K&L (TBC)
​=> Leila Pinto, NFT Artist & Managing Director of a global Finance & Investment Firm
​=> Asli Kutlucan, MBA, Chief Development Officer at Cycas Hospitality
5 min - Discussion "Your topics of interest" - Host: Heena Jethwa
5 min - Presentation of the 2023 Program & Benefits - Eve Logunova-Parker
15 min - Q&A and Closing remarks - Heena Jethwa
See you inside the Circle of Trust!