Description


Laugh, love, learn: Embodying Clown acts and Deconstructing Humanity Through Play

with Melissa Caminha.
June 22nd-24th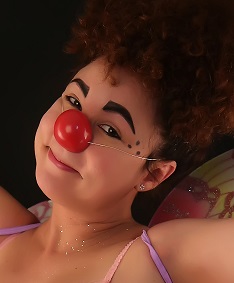 Clowning has a millenary art practice all around the world, adopting different forms and representations in different cultures. It has always been related to transgression, subversion, transformation and healing. Today, clowns are performing everywhere: in circus, theatres, streets, hospitals, conflict zones and special educational programs of social intervention. Contemporary clowning starts to develop solid collaborations with education and health fields.
These sessions aim to create clowning moments so that the participants can be experienced in different groups, as well as in different concepts related to clown, feminist and queer theories - difference , humanity, monstrosity, vulnerability, empowerment, subversion, resistance, transformation, among others.
Keywords: clowning, caring, contacts, feminist practices, queer theory.
Facilitator: Dr. Melissa Caminha is a Brazilian professional clown, art educator and professor in Performing Arts Degree at ERAM University School - University of Girona (Catalonia, Spain). She is an interdisciplinary researcher, with publications on clowning, art education and cultural politics. She has been teaching and performing for different audiences in Brazil and Spain.
She has as artistic research lines: clowning, mime, physical theatre and performance. Her theoretical research lines are theatre, performance, circus, art education, visual culture, cultural pedagogies, cultural politics, gender studies and doctor-based research. She is currently developing her first solo clown show, inspired by feminist and queer theories and artistic practices.
The Cunt Clown Show is the fruit or her PhD on Women's Clowns, developed at the doctoral program in Arts and Education, at the Faculty of Fine Arts, University of Barcelona, and directed by the master clown Jango Edwards. She has also been intensely working as a mother for almost three years, researching motherhood and politics of love and caring.
---
This session is part of the Participatory Art Methodology Program (PAM). PAM is an innovative and transdisciplinary Participatory Art Sessions in Amsterdam. PAM aims to experience and embody participatory pedagogies in & for your own professional practice.
What is PAM? PAMS is a series of monthly long-weekend gatherings about Participatory Art Methodologies in Amsterdam focusing on innovative and transdisciplinary methodologies in the field of Participatory Arts. The sessions are focused on the KNOW HOW. The invitees will share their working experience and creative experiences.
Who is PAM for? PAMS is for Social Workers, Therapists, Educators and Artists who are interested in group dynamics, activism and / or creation as part of shared authorship.
PAMs' details:
> A maximum of 12 participants
> Location: Tugela85, Tugelaweg 85, Amsterdam
> A total of 15 hours per session
Friday evening, 19:00 - 22:00, we get acquainted

with the content, space and each other

Saturday, 10: 00-18: 00, we have a full working day - when the methodology is shared and experienced

Sunday morning, 10: 00-13: 00, we will work on methodological tools in the participant practices
> We have 3 sessions planned:
March 23rd-25th

May 25th - 27th

June 22nd - 24th
There will be more PAM sessions after summer
> Fee with VAT Included:
Regular fee - 180 euros VAT included

Student fee - 120 euros VAT included.

Please if you're a student write a message to ana@plek-maken.nl
---
For more information about who we are, our work, our methodologies, please, go and check our website - www.plek-maken.nl -
If you have any questions, please write an email to ana@plek-maken.nl
Looking forward to seeing you in one, two or more of our PAMs.
Ana and David from PLEK .
---
> Creative director and curriculum developer: David Limaverde.
David is an Amsterdam-based, Brazilian-born art educator, performer and researcher with experience and interests in art-activism, theater and participatory / community art methodologies. He holds a MA in Performance Studies from the University of Amsterdam and a PhD in Arts and Education from the University of Barcelona.a MA in Performance Studies from the University of Amsterdam and a PhD in Arts and Education from the University of Barcelona. He is a member of PLEK-making and part of the group Ally Theater - and teaches, uses and multiplies participatory theater methodologies.

> Marketing, Communications and Strategic Partnerships: Ana Barona.
Ana is a Marketing and Communications Specialist. She provides marketing and project management solutions for small businesses, non-profit organizations and startups, with a strong focus on digital marketing. One of her many passions is Theater! She believes Theater is the tool for POSITIVE CHANGE. Theater brings magic at a personal level as well as in the professional one. Theater helps individuals get better and break internal and external boundaries.
---