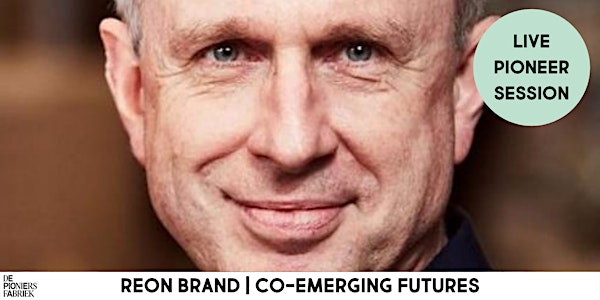 Co-Emerging Futures
Understanding emerging future directions and how this is intertwined with our mindset(s)
Refund Policy
Contact the organizer to request a refund.
Eventbrite's fee is nonrefundable.
About this event
Join our new Pioneers for Change - RE:IMAGINE series. This fall we will be guided by some amazing guests to discuss and rethink the question; in what world do we want to live? How does this relate to our modern worldview of seperation and infinite growth? How can we reimagine and reshape it and what do we need to know about transition theories and symtem change?
>>>>>>>>>>>>>>>>>>>>>>>>>>>>>>>>>>>>>>>>>>>>>>>>>>>>>>>>>>>>>>>>>>>
Voertaal: Engels
Pioneer Session | Reon Brand - Co-Emerging Futures
Get an understanding of co-emerging futures we could be facing. Deep dive into potential futures, based on different paradigms, mindsets, beliefs and interests. Next level inspiration.
Are humans part of nature or above nature?
***
We talk about THE FUTURE endlessly, and about how we should act upon it; as an individual, businesses, politics or educational institution.
Therefore it seems very relevant to think thoroughly about what potential futures might emerge? We can do this if we look closely at undercurrents and zoom in on underlying mindsets, beliefs and interests. That is exactly what Principal Designer Reon Brand (Philips Design) did with his highly relevant study on Co-Emerging Futures (2019).
The impact of the Anthropocene, climate change, the loss of biodiversity, but also the enormous influence of technology on our thinking and our 'being', are considered major drivers of (irreversible) change - where do these developments lead to?
Get inspired by the four Co-Emerging Futures that Reon explored.
How will the condition of the planet and humanity affect the future?
AFTER THIS SESSION you will know more about the Co-Emerging Future tracks:
1) Immortalia > 'super human'
2) Etherea > humans merge with technology
3) Habitania > focus on sustainability and circular
4) Gaia > people and nature are one
GAIA
With special attention to the fourth track from the Co-Emerging Futures study: Gaia.
A future where the ideal is: to look for a different balance, where humans are part of a new dynamic and evolving natural ecosystem.
During this pioneer session we have some extra time for interaction & reflection based on design principles such as:
I. From Human-centric Design to Ecosystem-centric Design
II. From Design for Competitive Advantage to Design for Mutuality and Cooperation
III. From Design for Scalability – to Design for Diversity
FORESIGHT
It is Reon's mission to create foresight (not to be mistaken with 'predicting the future'). It's all about sensemaking. Where do our ideas come from? What is this telling us about our worldview and mindset(s)?
Foresight hs to do with seeing complex patterns of future streams of change gaining momentum through a complex interaction between different forces. Such forces include changing socio-cultural values, mindsets, and philosophies, possibilities of emerging technologies, and changing environmental, political, and economic realities.
Get inspired about 4 co-emerging futures and the underlying values. We will zoom in at track 4 of the Co-Emerging Futures study: Gaia.
'Gaia compels us to look at our place in the ecosystem not as humans versus the environment, but as active agents that are part of a larger ecosystem'.
Flow of the session
16:00-16:15 INTRO - Welcome Pioneers for Change Learning Community
16:15-17:00 RE:THINK - Co-Emerging Futures
17:00-17:15 RE:SPOND - Share and exchange ideas in small break-outs
17:15:18:00 RE:CAP - Ask me Anything with Reon Brand & Reflecting on Design Principles
NOTE
Ideally this session is experienced as a whole, in combination with the workshop about Speculative Design on November 11th, hosted by Anouk Geenen & Julieta Matos Castano (Design Lab Twente University).
ABOUT REON BRAND
Reon Brand is Senior Director Foresight and Socio-cultural trends at Philips Design. He is responsible for gaining understanding of emerging future directions for the Philips Strategic Company Innovation. In June 2019, Brand published his latest research called Co-Emerging Futures, a model which looks at emerging developments in times of profound global challenges.
PIONEERS FOR CHANGE | RE:IMAGINE Series
This session is part of a series of Pioneers for Change interactive webinars. With (inter)national pioneering speakers such as Jeremy Lent (The Web of Meaning), Reon Brand (Co-emerging Futures & Rethinking Value), Anouk Geen & Julieta Matos Castano (Speculative Design) and Jan Rotmans (Professor of transition studies and sustainability)
More information on: www.depioniersfabriek.nl/events
Read our Manifest and Join us as a Member: https://www.depioniersfabriek.nl/manifest