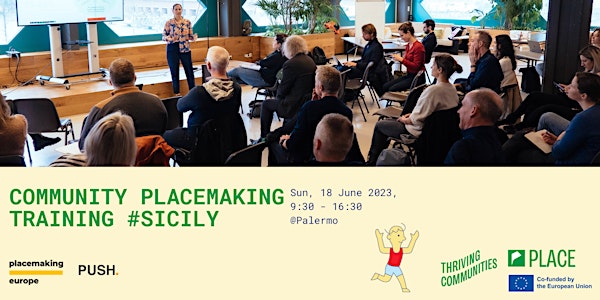 Community Placemaking Training #Sicily
Join us for this Introduction to Placemaking Training in Palermo on how placemaking can help bring about positive change in your community!
Date and time
Sunday, June 18 · 10am - 5pm CEST
Location
Ex Chiesa di San Mattia ai Crociferi 18B Via Torremuzza 90133 Palermo Italy
About this event
We invite you to join this the Introduction to Community Placemaking Training taking place in Palermo on how placemaking can help bring about positive change in your community!
If you are interested in exploring how to create a thriving, equitable and sustainable community by joining values, passion and action around public spaces - join us for this intensive 6-hour training!
On Sunday, 18/06 we will come together to learn so much more about placemaking. We not only will hear from local leaders working to create spaces with communities at their hearts, but will also explore the public spaces around us to see what it really takes to transform the spaces we simply live in into places we truly love. This training will be led by Placemaking Europe and PUSH .
With this training to we aim to:
Develop the capacity of community-leaders, public sector leaders and groups of local citizens to use placemaking processes to: develop civic imagination; create impactful and practical community projects; and target better social, climate and ecological outcomes.
Demonstrate how placemaking processes can help citizens to make their voices heard and to publicly exchange their views on how to put key areas of EU sustainable development and climate policy into meaningful local action.
Create space for learning and exchange between citizens and civic organisations on placemaking approaches, the lessons they have learned and relevant policy recommendations that have resulted.
The training is suitable for anyone interested in placemaking approaches. People with all levels of experience are welcome.
The training will be in English.
The training is free, but registration is required and participants are expected to commit to the full day. The number of places is very limited, so don't wait to sign up.
This event is part of the PLACE project (Placemaking for Citizen-led Missions in SE Europe) and is led by Placemaking Europe, Korimako, KLIK and PUSH, who are all members of the Thriving Communities collective - an initiative helping communities to create radical enough change to thrive in the 21st century. We believe that placemaking is vital to the overall process of creating radical change.
This event is made possible thanks to support from the Citizens, Equality, Rights and Values programme of the European Union.
About the organizer
Placemaking Week Europe is Europe's founding and largest placemaking festival. In the spirit of collaboration and inspiration, over 400 practitioners meet every year to share knowledge, learn and network