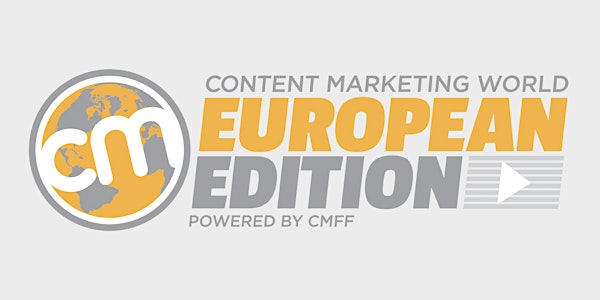 Content Marketing World 2020, The European Edition
The European online edition, of the largest content marketing event on the planet.
About this event
Don't miss Content Marketing World, The European Edition Online (October 13-16, 2020)
Book your 3-day ticket for € 99,-.
As part of that innovation, we offer a dedicated European Edition for marketers in Europe. During three days, a selection of 15 inspiring #CMWorld keynote presentations will be embedded in a European Online Talk Show format featuring thought leaders, experts and practitioners from countries across Europe. This will add a European context layer to the learnings from the keynotes. The online event experience will be optimized with break-out room at national or regional level.
With your ticket at € 99,- ex taxes and charges, you have unlimited access to all three days with 15 keynotes from leading experts like Joe Pulizzi, Robert Rose, Ann Handley, Tamsen Webster, Andrew Davis, Jay Baer and many more.
The Live Talk Show and 'what about European Time Zones?'
As CMWorld is the largest content marketing event on the planet, the online experience presents a few time zones challenges AND opportunities.
On all three days, you can choose to participate in the 'real-time' session, starting at 14:30 BST / WEST , 15:30 CEST, and 16:30 EEST. Every session includes 5 industry keynotes, completed with expert panels and national/regional break-out rooms. The length of every daily session is approximately 4,5 hours. Of course, you can choose to view your preferred keynote speakers only.
Watch keynotes in during your late afternoon/early evening or the moring after !
In order to offer European marketers maximum flexibility, we also offer a 'replay' session, the morning after the real-time session, starting at 06:30 BST / WEST , 07:30 CEST, and 08:30 EEST. The keynote program during the 'replay' session will be identical to the program of the day before, while the moderation during the 'replay' session will be live and in real time.
This means that you can choose to see all 15 keynotes or a selection, with the flexibility of viewing them either during 'real-time' session in the late afternoon, early evening, and/or during the 'replay' session, on the morning afterwards.The event is supported by a network of dedicated expert partners in the various European countries.
Keynote Speakers and Topics
Robert Rose: Architecting Desire: A New Strategy for Content Marketing for the Next Ten Years
Joe Pulizzi: Where Do We Go from Here? Disney, Diversification & The New Marketing Business Model
Shafqat Islam: Beyond Breaking the Rules: Why Connections in Marketing Matter More Than Ever
Jay Baer: Courageous Content: 6 Ways to Get Noticed Amidst the Noise
Paige O'Neill: Human Connections in a Digital World: Discover the Strategies That Define Successful Digital Brands
Melanie Deziel: More Brain, Less Storm: The Power Of The Creative Proces
Sydni Craig-Hart: Compelling Multicultural Marketing: What You're Missing, What's Working Now and How to Get Results
Andrew Davis: Limit Less - How Successful Brands Increase Their Revenue, Generate More Leads, and Spread Their Message in a Crowded Marketplace
Tamsen Webster: Pressure Test Your Message
Folayo Lasaki: The Representation Gap: Rethinking Diversity in Marketing
Ann Handley: Precedented: 5 Principles of the Last Chaotic 10 Months That Are the Very Key to Content Marketing Success in the Next 10 Years
Christine Carter: Creating Authentic Content for a $1.5 Trillion Audience
Pam Didner: 3 Trends You Can't Ignore As a Content Marketer
Christi Olson: Embracing the Non-Binary Marketing Mindset
A. Lee Judge: Be Content
Detailed descriptions of the 15 industry keynotes can be found here.
Book your 3-day ticket for € 99,-.