Conversation Design Festival is hosted by the Conversation Design Institute Foundation
About this event
Organizations around the world are looking to automate conversations. We celebrate the people that help them do this. They are the ones to unlock the potential of conversational AI technologies.
At this festival, you will learn from AI Trainers, Conversation Designers, and Conversational Copywriters. They will share their learning journeys and enterprise experiences.
You will get practical advice on deploying, designing, and optimizing AI Assistants like chatbots and voice assistants. Experts working in banking, retail, telecommunication, and government will share their story of how they made their projects successful - and what they look for when hiring.
During the Conversation Design Festival, you will
Learn from the best and brightest in conversation design and AI training
Learn from enterprise and how they manage projects and grow their team
Learn about AI ethics, inclusivity, and data philosophy
Learn how to advance your career in conversation design
Potentially meet your future employer or employee
Celebrate and honor conversation design with the annual industry award ceremony
Get jiggy at the annual Graduation Party for students at Conversation Design Institute!
At the festival, you will meet like-minded people that are happy to help you with design, technology, research, hiring, and other topics related to Conversational AI.
Check out the Schedule: https://hopin.com/events/van-dam-s-first-event#schedule
Speakers include:
Cami Rincón, Research Assistant in Public Sector AI Ethics and Governance, The Alan Turing Institute
Greg Bennett, Conversation Design Principal, Salesforce
Phil Harvey, Principal Program Manager, Microsoft Research, Autonomous Systems Architect
Lisa Talia Moretti, Digital Sociologist, Ministry of Justice UK / Associate Lecturer, Goldsmiths / University of London
Elisabeth Stokoe, Professor of Social Interaction, Loughborough University
Jon Stine, Executive Director, The Open Voice Network
Yaki Dunietz, Co-founder, Chairman, cocohub.ai
Dexter Zavalza, Conversational UX Design Lead, Deloitte Consulting
Hans van Dam, Dean & Co-Founder, Conversation Design Institute
Jason Gilbert, Character Designer, Intuition Robotics
Maarten Lens Fitzgerald, Founder and Director, Project Zilver / Author of Voice: the conversational revolution: insights & opportunities
Mark Boutros, Senior Conversation Designer, Conversation Design Institute / International Emmy nominated screenwriter / Senior Content Designer UX, Babylon Health
Braden Ream, CEO, Voiceflow
Shnay Chohan, Senior AI Product Manager | Digital Technology, NatWest Group
More names to be announced!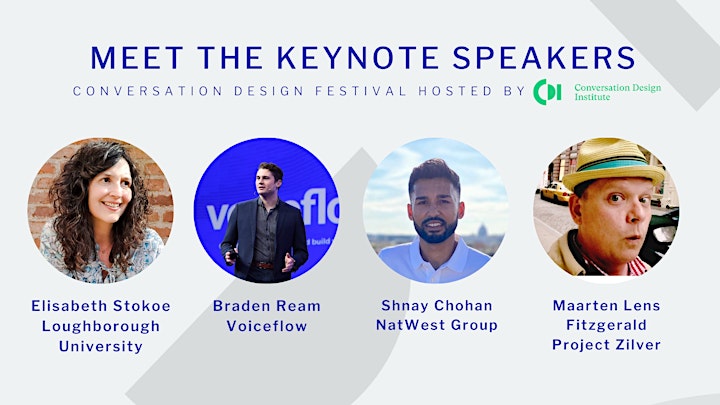 Conversation Design Awards
We need to honor and celebrate the best and brightest. The advisory board of CDI foundation is currently developing the standards by which AI Assistants are measured. These criteria will be shared as soon as possible.
There will be categories for
Best fundamentals
Best AI Training
Best transactional journey
Best personality
Best chatbot experience
Best voice experience
Best service assistant
Best marketing assistant
Most innovative journey
Most impactful AI Assistant
Best indie developer
Best media assistant
This award show is hosted by Hans & The Botman and kicks off the Graduation Party.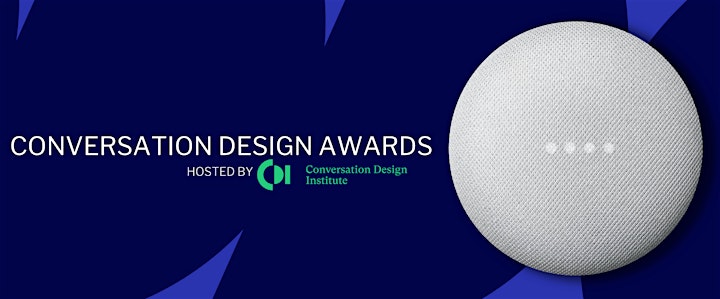 Come join us and all of our students on the 15th of June, celebrate, become inspired and meet our partners in crime during the conversation design conference of the year!
Always happy to help, so feel free to contact us: info@conversationdesigninstitute.com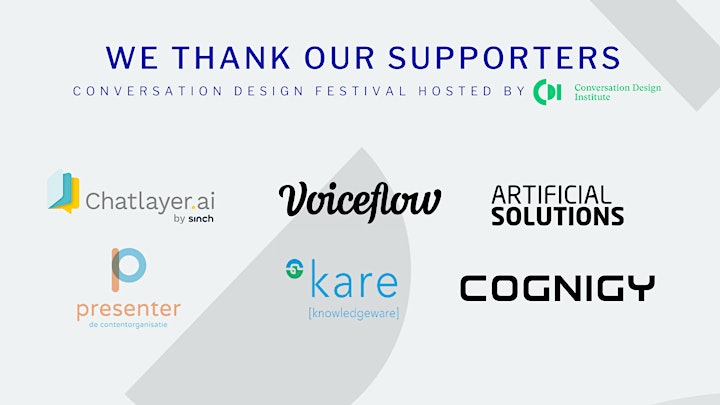 Organizer of Conversation Design Festival
AI Assistants, like chatbots & voice assistants need conversation designers to create good customer experiences.
Conversation Design Institute teaches a human centric workflow that has proven itself to organizations around the world.
Become a certified professional, join one of our online courses or work with our experts.
Conversation design is the future... Are you ready?