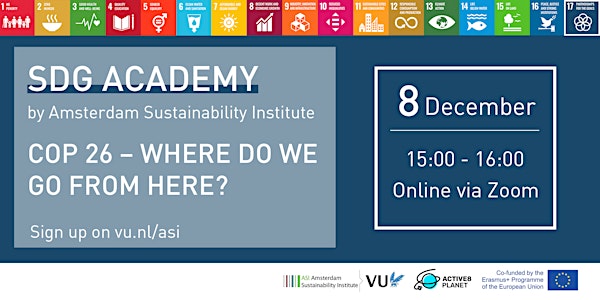 COP 26 – Where do we go from here?
After the COP 26 just finished, the ASI organises a debrief event to unpack the results together with attendees and researchers of the VU.
By Amsterdam Sustainability Institute
Date and time
Wed, 8 Dec 2021 06:00 - 07:00 PST
About this event
The COP26 in Glasgow has just come to an end and as broad discussion among attendees and climate experts shows, the results are mixed and not what everyone had hoped for. For everyone who did not have the opportunity to unpack the results yet or would like to dive in deeper, the Amsterdam Sustainability Institute organises a debrief of the conference as part of the lecture series SDG Academy. What are the key outcomes of the negotiations and which steps have to be taken now to come closer to the net-zero transition?
On 8 December at 15.00h, a diverse group of attendees of the conference, researchers of the Vrije Universiteit Amsterdam and youth representatives will share their reflections and discuss which roles stakeholders around the world have now.