Learn everything about Copernicus Masters, the European space business competition focusing on earth observation!
About this event
Learn how Reef Support won the Copernicus Masters
The international Copernicus Masters competition focuses on everything about earth observation. Are you able to improve life on earth with the help of space technology?
The session will be presented by SBIC Noordwijk, regional partner of this competition for six years now, and by the last year's winner of Copernicus Masters Reef Support. They will share their experiences and give you valuable insight on how to join this competition the best.
In this webinar you will:
Learn from last year's NL Prize winner and Overall winner
Find out how it boosted their business
Discover why you should participate
About:
Marcel Kempers is the CEO of Reef Support, the 2020 winner of the Copernicus Masters. This Dutch business monitors coral reefs with the aid of Earth Observation.
Martijn Leinweber is the COO of SBIC Noordwijk, with over a decade of experience guiding space businesses. SBIC Noordwijk is one of the partners of the Netherlands Prize.
Prepare yourself and register for the webinar!
--> You will automatically receive a link to the webinar +/- 2 hours before it starts <--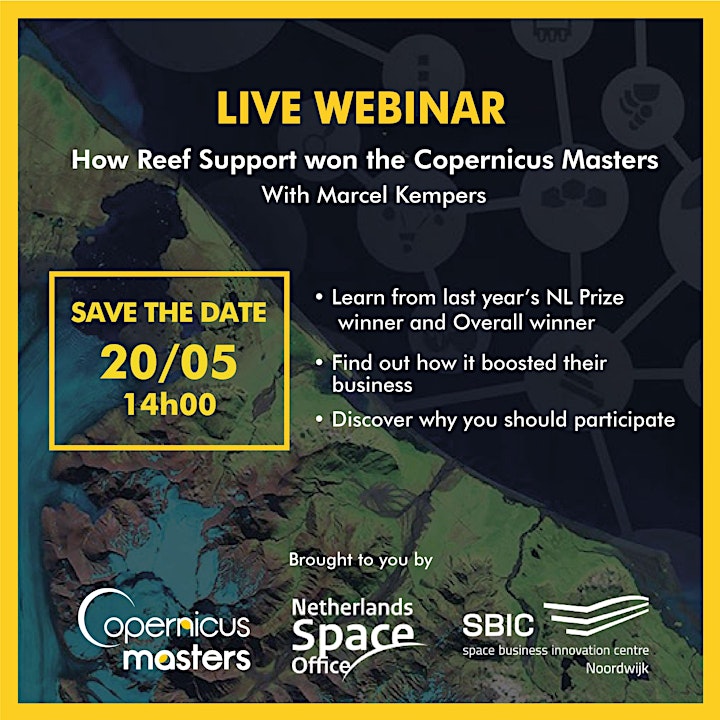 Organiser of Copernicus Masters info session (WEBINAR)