Learn everything about Copernicus Masters, the European space business competition focusing on earth observation, and Planet's Challenge!
About this event
Learn about Copernicus Masters and Planet's "See Change, Change the World" Challenge
The international Copernicus Masters competition focuses on everything about earth observation. Are you able to improve life on earth with the help of space technology?
Planet is looking for new solutions that help save our planet by fostering EO data and derived products which promote the European Green Deal.
The session will be presented by SBIC Noordwijk, regional partner of this competition for six years now, and by Planet Labs GmbH, a leader in Earth Observation. They will give you valuable insight on how to join this competition the best.
In this webinar you will:
Learn about Planet's "See Change, Change the World" Challenge
Discover how to use EO data to promote the European Green Deal
Understand who should participate & why
Presented by:
Founded in 2010 by a team of ex-NASA scientists, Planet is driven by a mission to image the entire Earth every day and make Earth's changes visible, accessible, and actionable. Planet started as a small team of physicists, aerospace and mechanical engineers in a garage, using the cubesat form-factor to inform the first designs of the Dove satellite. Just eight years after their first satellite entered space, Planet now operates the largest constellation of Earth observation satellites. Their satellites are collecting a radical new data set with endless, real-world applications. Whether one is measuring agricultural yields, monitoring natural resources, or aiding first responders after natural disasters, Planet's data is here to lend businesses and humanitarian organisations a helping hand. Planet believes timely global imagery will empower informed, deliberate, and meaningful stewardship of our planet.
Martijn Leinweber is the COO of SBIC Noordwijk, with over a decade of experience guiding space businesses. SBIC Noordwijk is one of the partners of the Netherlands Prize.
Prepare yourself and register for the webinar!
--> You will automatically receive a link to the webinar +/- 2 hours before it starts <--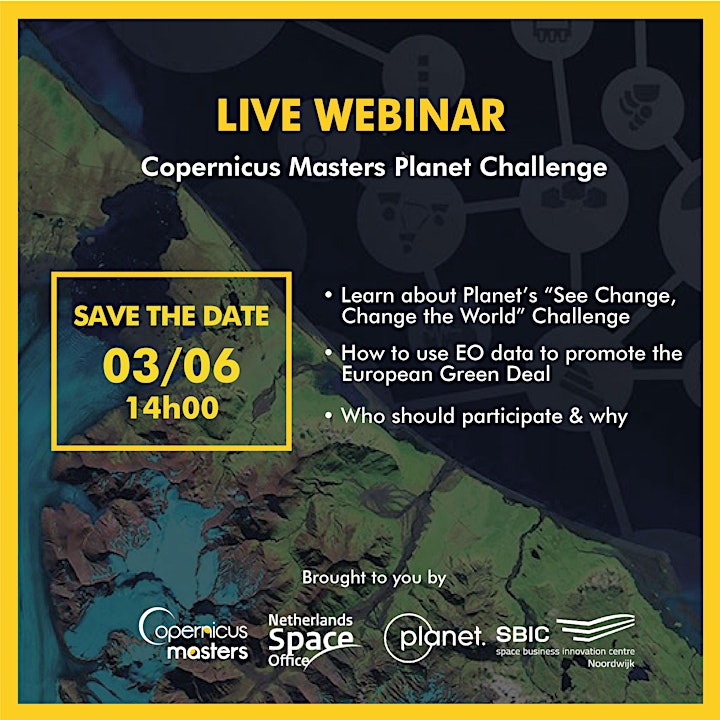 Organiser of Copernicus Masters info session (WEBINAR)