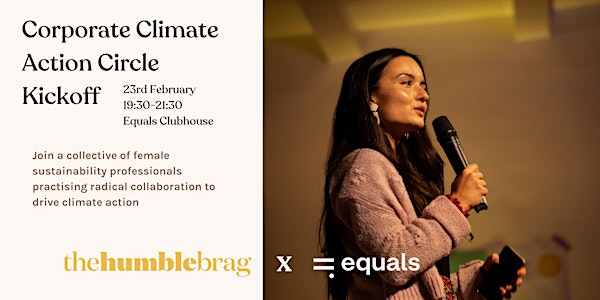 Corporate Climate Action Circle
Are you a self-identifying woman and sustainability professional looking to drive forward climate action in your work?
Date and time
Thu, 23 Feb 2023 19:30 - 21:30 CET
Location
Equals Clubhouse Raamgracht 6 1011KK Amsterdam Netherlands
About this event
We invite you to join the all-new EQUALS Corporate Climate Action Circle co-hosted by The Humblebrag in partnership with Creatives for Climate Foundation for a kick off session on 23 February 2023.
This in-person programme will curate voices and experiences from local change-agents within leading companies and brands to support one another to accelerate our collective impact.
For the kick-off, we invite all curious professionals to join us for an explorative session to collectively map the topics, speakers and format of future events to understand what "Corporate Climate Action" means to our community and what you want to discuss!
Why join us?
The Humblebrag Impact Agency is committed to amplifying the voices of diverse sustainability frontrunners with a firm belief that we need new, disruptive leaders to drive business as a force for good!
The Humblebrag is also the initiator and driver of global non-profit Creatives for Climate, a not-for-profit global intelligence network of thousands of storytellers and sustainability professionals practicing radical collaboration to drive climate action.
This Climate Action Circle is vital as a starting point for Amsterdam-based sustainability leaders to come together to reflect, learn, connect and act - with the aim to facilitate a shared space where women can network, grow, support and empower each other in their climate action work.
Join us to become an integral part of a community of driven industry leaders trying to bring about a more regenerative, just world!