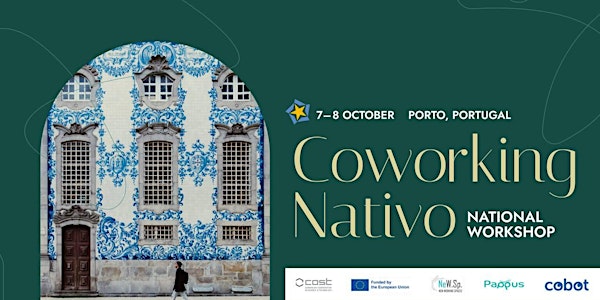 Coworking Nativo
An event for the Portuguese coworking community to begin the process of building a Portuguese Coworking Assembly for the future.
When and where
Location
R. de José Falcão 199 199 Rua de José Falcão 4050-215 Porto Portugal
About this event
About this event
An event about the people.
Not an event about the event.
Welcome to Coworking Nativo in Porto.
Location: Porto, Selina Coworking, R. de José Falcão 199
Dates: 7-8 October
Event Agenda
It is a two-day event
7th October: 11.00 – 18.00
11:00 REGISTRATION
11:30 – 12:00 INTRODUCTION
Introduction to COST Action CA 18214 'The geography of New Working Spaces and impact on the periphery CA18214' - Ilaria Mariotti, Action Chair of the Cost Action 18214 "The Geography of New Working Spaces and the Impact on the Periphery" (2019-2023)
12:00-13:00 KEY LECTURES
An overview of the development and location of coworking spaces in Portugal - Elisabete Tomaz and Maria Gato (Associate Researchers at DINAMIA'CET-IUL)
Impact of the war on communitarian spaces in Ukraine - Vika Żurbas (Coworking Association Ukraine)
13:00-14:00 LUNCH
14:00-16:00 INTERACTIVE WORKSHOP ASSISTED PAPPUS AGENCY, led by Simone Franke (Founder & CEO, Pappus)
16:00 – 16:30 COFFEE BREAK
16:30-18:00 DISCUSSION, moderator: Bernie Mitchel (Value-driven Coworking Advocate | Blogger | Podcaster)
Participants: Kristina Schneider (Co-founder and CPO Cobot), Joana Carvalho (Founder & CEO DINAMO10) and Victor Nourrissat (Head of Outreach at SafetyWing)
20:00 - NETWORKING & DINNER
8th October: 12.00 – 16.00 STUDY TOUR
Study tour to selected new working spaces in Porto CBD:
12:00 Typographia Coworking (led by Jeronimo Botelho, Owner of Typographia). Address: Campo dos Mártires da Pátria 144 A, 4050-368 Porto
13:30 Temporada Cowork (presented by Vitor Miller, Founder and Community Enhancer of Temporada Cowork). Address: Rua da Torrinha 151, 4050-611 Porto
15:00 CRU Creative Hub (organised with Tania Santos, Founder and Director). Address: Rua do Rosário 211, 4050-524 Porto
Registration deadline 05 October 2022.
The national workshop aims to:
i) exchange knowledge about the growing phenomenon of New Working Spaces (NWS) (such as coworking, makerspaces, fablabs, hackerspaces, business laboratories, other collaborative and creative workspaces, libraries offering coworking and makerspaces and office sharing services),
ii) understand differences and similarities between city and peripheries, as well as the implications for urban and regional development and policy in Portugal, and
iii) to discuss and lay the foundations for a Portuguese Coworking Assembly for its future.
The workshop also aims to promote collaboration between national academics and other Portuguese actors, who are interested in this topic. It also aims to get to know each other better and establish a platform for collaboration and future projects. Both academic participants and stakeholders at the national, regional, and local level play a crucial role as experts and informants on the development of NWS in metropolitan areas, medium-sized small towns, and rural areas in Portugal.
The event is organized by the COST members in Portugal who are involved in COST Action CA18214 'The Geography of New Working Spaces and Impact on the Periphery' (2019-2023), funded by the European Union http://www.new-working-spaces.eu/
The event is organized in collaboration with the European Coworking Assembly.
This event will be of interest to researchers, policy makers and practitioners in the field of:
Urban planning
Real-estate analysis
Economic geography
Social science
Policy and decision making
LOCAL ORGANIZERS:
WG member of the CA 18214 Vika Zhurbas (President, Ukrainian Coworking Association),
Portuguese MC members of the COST ACTION CA 18214 Elisabete Tomaz (Associate Researcher at DIN MIA'CET-Iscte), and
WG member of the CA 18214 Marko Orel (Head of Center for Workplace Research)
Tickets, costs, travel and accommodation.
To secure your free place, you need to register.
We have limited places to keep the event small and connected.
You are responsible for your travel, meals and accommodation.
We are responsible for the event and the conversation!
Children are welcome to this event - please let us know their age when you register.
If you have never been to Porto, it is a beautiful city with fantastic food.
***
i) The workshop is supported by COST Action CA18214 'The geography of New Working Spaces and the impact on the periphery', supported by COST (European Cooperation in Science and Technology) http://www.cost.eu and http://www.new-working-spaces.eu/
ii)COST (European Cooperation in Science and Technology) is a funding agency for research and innovation networks. Our Actions help connect research initiatives across Europe and enable scientists to grow their ideas by sharing them with their peers. This boosts their research, career and innovation