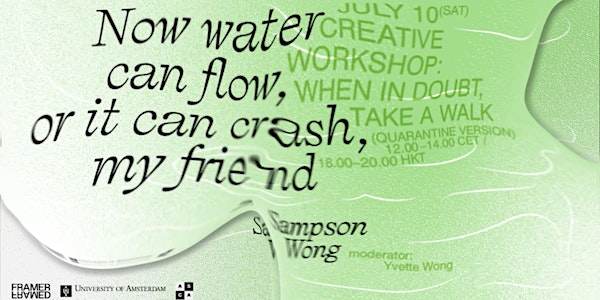 Creative workshop: When in doubt, take a walk
Framer Framed is inviting you to join a creative workshop that virtually connects the urban experiences of Hong Kong and Amsterdam
About this event
Online Creative Workshop
Date: July 10th, 12.00-14.00
Hosts: Sampson Wong, Yvette Lok Yee Wong
Register
The event is FREE and has limited spots. Please register to join the workshops by Eventbrite. You will receive an invitation by email. The language is English.
In October 2020, Sampson Wong together with videographer Eric Tsang, launched a YouTube channel, titled "When in doubt, take a walk", to publish videos of individuals wandering in the city (especially in Hong Kong). This is a timely project not only in the highly politicised Hong Kong, but also in places fronting the outbreak of the pandemic. Having a walk has become a precious moment for people to have fresh air, sunlight and look at the urban built environment that we love. This workshop would be a quarantine version of the walk. Sampson will connect with one of the researchers of this program, Yvette Wong, who will be in quarantine during the workshop. We invite you to join us, all together to have a walk for Yvette, and other people who are isolated in this period. With the walk, we encounter, we care, reclaim, and expand our enjoyment and possibilities in the urban spaces from Hong Kong to Amsterdam.
In this workshop, Sampson will lead us to do some creative exercises and guide us to the walk behind our screen.
Contributors
Sampson Wong is an artist, independent curator, academic and urbanist based in Hong Kong. He engages in art-making, curatorial practice, teaching, research and writing, and sees them as intellectual means exploring issues about urbanism, space, power and freedom. His projects focus on emerging 'publicness' and critical creativity.
Yvette Lok Yee Wong is a PhD Student at the University of Amsterdam. She received her MPhil from the Department of Humanities and Creative Writing at Hong Kong Baptist University in 2017.  Next to her academic work, she is a pop lyricist, writer and cultural worker in Hong Kong herself. She has published pop lyrics since 2014. Her writings are published on Ming Pao, Zihua, City Magazine and Hong Kong Literature House.