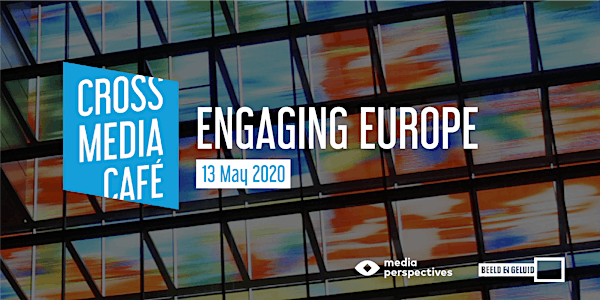 Cross Media Café - Engaging Europe (cancelled)
Description
Now in its 63rd year, the Eurovision Song Contest is one of Europe's longest-running television programs, with an international audience of 100 - 600 million every year. In 2020, the Netherlands will host the Contest from 12 - 16 May in Rotterdam and while the world's attention is on the stage we look behind the scenes at how the Contest has developed over the years and what the future holds.
On 13 May, Media Perspectives and Sound and Vision (The Dutch national institute for media cultures), will host an expert session and a special edition of its long-running event series the Cross Media Café, to highlight innovation and audience engagement in this year's edition of the Eurovision Song Contest.
The event will take place in the National Institute for Sound and Vision in the Mediapark in Hilversum, and will also be streamed live.
This afternoon session will be an overview of technological and media innovations in and around Eurovision 2020, with a special focus on fan engagement. With contributions from:
Egon Verharen is the Innovation Manager at NPO, stimulating and facilitating innovation among the Netherlands public broadcasters. This year he is overseeing most of the media innovations happening around the Eurovision Song Contest. Egon will present two projects that showcase the future of media.

At select locations in the Netherlands, audiences will be able to view the live broadcasts in UltraWideVision, 12k x 2k resolution – the sharpest, most detailed video yet imaginable. In addition, the Next Generation Audio project will test the MPEG-H object-based audio authoring and ADM renderer – join us to find out what this means and sounds like!



Jorre Belpaire is the CEO of Kiswe Mobile Europe. Kiswe Mobile is developing a cloud-based technology that will allow viewers to create customised video streams with their favourite commentators and engage in real-time with other fans tuned into the stream.



Natalia Higuera is the Marketing and Communications Manager at Sceenic. Sceenic will power the Eurovision Song Contest 2020 Watch Together experience. This technology allows friends and family to watch videos, OTT, and TV together whilst seeing and hearing each other with real-time video chat, perfectly synchronized with the live show.



Karen van Dijk is editor-in-chief of AI Song Contest at VPRO. The AI Song Contest is a project researching the creative abilities of AI and its impact on us as musical beings. For this contest, various teams are invited to deconstruct the recipe for a great Eurovision song by trying to generate a new one. A panel of AI experts and the audience will decide the winner. During this session, we'll listen to the best entries and learn from the winners about how their song was made.



Rasa Bočytė is researcher at the Netherlands Institute for Sound and Vision and is currently working on the pan-European ReTV project. She will tune one of the project's innovations - The Topics Compass - to Eurovision and show how it measures engagement and mood over time, in the news and on social media. This AI-based predictive tool will help media professionals plan future online engagement by honing the timing and sentiment of their content.




Aisha Scheuer is the founder of the popular Dutch news site DIWMOTZ: ''Dit Is Waarom Mensen Op Twitter Zitten''. DIWMOTZ makes compilations of funny tweets, and among those tweets about TV programs are especially popular. Aisha will present the best tweets about the first Eurivision Song Contest semi-finals the day before, and will share some thoughts about TV and Twitter. (in Dutch!)

17.00-18.00

Networking drinks
Organiser of Cross Media Café - Engaging Europe (cancelled)
Media Perspectives organiseert samen met Beeld en Geluid het Cross Media Café. Dit zijn bijeenkomsten voor mediaprofessionals waar steeds de nieuwste ontwikkelingen op het gebied van media, in de breedste zin van het woord, worden gepresenteerd. Met de Cross Media Cafés dragen we bij aan kennisontwikkeling, kennisdeling en innovatie om zo de media-industrie een stap verder te brengen.