LIVE Reliability Seminar on Data Science for Reliability & Root Cause Analysis. Keynotes from Michael Pecht and Tiedo Tinga.
About this event
We are planning two days filled with best practices, the latest trends and innovations, open discussions and expert groups.
Topics
• What can Data Science mean for Root Cause Analysis, Condition Monitoring and Reliability Prediction?
• How can it lead to Reliability Engineering 2.0 – Life Time prediction per machine or per component based on machine data?
• How to collect the proper data and how to transform this into usable information?
• How to model the data to get accurate predictions?
• What is the role of the Reliability Engineer in connection with Data Science?
Goal
To share knowledge and experiences between data science and reliability experts - to be able to accelerate projects, improve quality and reliability, start co-development, discover growth opportunities, learn from each other and have fun! Meet and join with other key decision-makers and key engineers in the field of Data Science for Reliability and Root Cause Analysis.
What?
Keynotes, presentations, panel discussions, including catered lunches and network breaks, and an interesting evening program (optional).
Dates
14th and 15th of October 2021
For whom?
Reliability and Root cause Analysis experts, System and Lead Engineers, Data Scientists, System and Software Architects, Program Managers in High-Tech, Mobility, Energy, MedTech and AgroTech.
More information on seminar: reliability@holland-innovative.nl
Or visit https://www.holland-innovative.nl/en/reliability-seminar/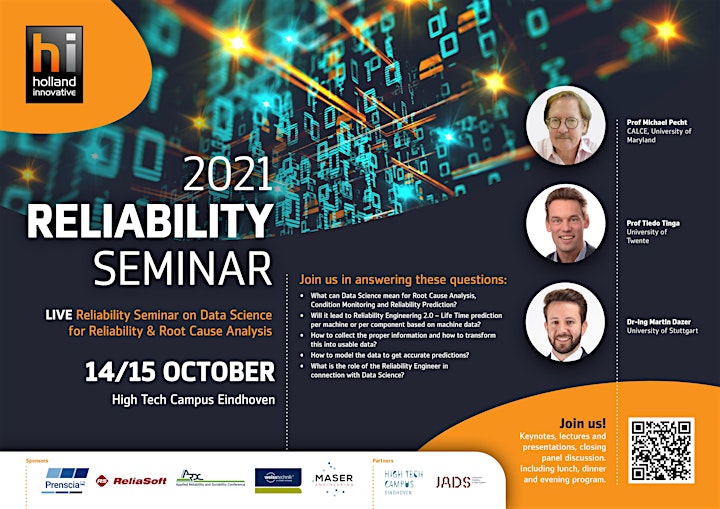 Organiser of Data Science for Reliability and Root Cause Analysis - Live Seminar !