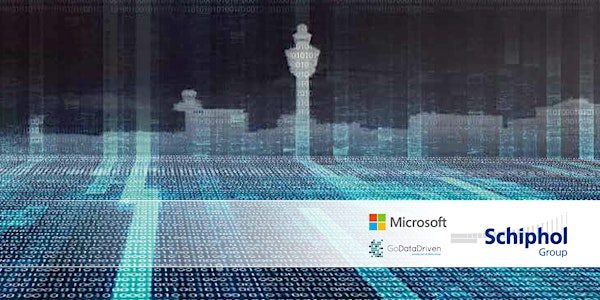 Data Science Hackathon Schiphol Airport
When and where
Location
Microsoft Evert van de Beekstraat 354 1118 CZ Schiphol Netherlands
Description
A One-Off Chance to Access Unique Airport Data
-------------------------
What is this event?

Schiphol Group, in association with GoDataDriven and Microsoft, invites you to sink your teeth into rich airport data on Friday, October 28.
Unique data sets and state-of-the art technology
For one day only, you'll have the rare opportunity to work with data scientists on data sets unique to Schiphol Airport, including bird radar; flight and luggage data; and micro weather data per landing strip from the air traffic control tower.
Sign up today to join the fun, data science hackathon on Friday, October 28. You'll have the opportunity to work with the Azure Cloud platform with the Cloudera stack and a wide array of DS tooling.
For who is this?
Anyone with an interest in data science, machine learning, visualization, data-intensive programming, or general hacking is welcome to join. Schiphol's datasets are unique and spots are limited, so sign up now!
You will especially enjoy the afternoon if:
You like machine learning, to think about and apply models to data;

You like to program to reach your goal and still be able to collaborate in a team;

You like to use visualisation to communicate the results.
Background
Schiphol Airport owns unique data sets, including flight and luggage data, and bird data. These data sets have never been combined with external data to create new insights. Schiphol Airport has the ambition to become the world's #1 connected airport and data science is a key to fulfilling this ambition. Schiphol is interested in the insights and predictions that a group of talented Data Scientists could bring.
After a brief opening by  a senior director of Schiphol Group  you'll quickly get to work. At the end of the day the results will be presented to a jury. The jury selects a winner.

08:00 Coffee
09:00 Introduction
09:10 Start Hackathon and group formation
09:30 Start in groups
13:00 Lunch
16:30 Plenary wrap-up to the jury
18:00 Drinks
19:00 End
About the organisers
This event is a collaboration between Schiphol Group, GoDataDriven, and Microsoft.

Schiphol Group
Schiphol Group is an enterprise that operates airports in the Netherlands, conducts international activities and participates in airports abroad. Operating Amsterdam Airport Schiphol is the Group's largest activity. Schiphol Group is the owner and operator of Rotterdam The Hague Airport and Lelystad Airport, and holds a majority share in Eindhoven Airport.
At the end of 2014, Schiphol Group employed 2,104 people, the majority of whom (1,915) worked at the Schiphol location.

GoDataDriven
A passionate team of data scientist and software engineers. By combining these disciplines with large scale, open source information platforms we create Data Science solutions at various customers such as; Bol.com, KPN, TomTom, Booking.com and ING. Besides that we are:
Co-organiser of DataMission, the first Dutch initiative for doing good with Data Science skills.

Microsoft
Microsoft (Nasdaq "MSFT" @microsoft) is the leading platform and productivity company for the mobile-first, cloud-first world, and its mission is to empower every person and every organization on the planet to achieve more.
F.A.Q.
What are the transport / parking for the event?
Cars can be parked in the parking garage of Microsoft.
What can I do / not bring to the event?
Power and Internet connections are regulated sufficiently. A personal laptop with your own development stack could help to solve interesting problems using big data-applications.
Where can I reach the organizer if I have questions?
Contact Walter van der Scheer at waltervanderscheer@godatadriven.com