Description
We reached the maximum number of registrations. If you would like to submit your name to a waiting list, please send an email to dsce@tue.nl.
---
The Annual Data Science Summit, organized by DSCE, takes place in the Frits Philips Muziekgebouw in Eindhoven on November 27, 2018. The goal of the summit is to show that great scientific research can be done in close cooperation with and inspired by industry and other partners.
During this day we will have several excellent speakers who will share the latest insights in various Data Science aspects, focused around TU/e's research programs. There will also be ample time for discussion and hands-on idea sharing during the poster sessions. Here you can see and discuss examples of Data Science methods and applications with practitioners. The Data Science Summit inspires and gives directions for solving your specific challenges. The day is aimed at a broad audience: from (research) specialists in the field to applicants and practitioners.
Program
Day chair: Marle de Jonge (TU/e Studium Generale)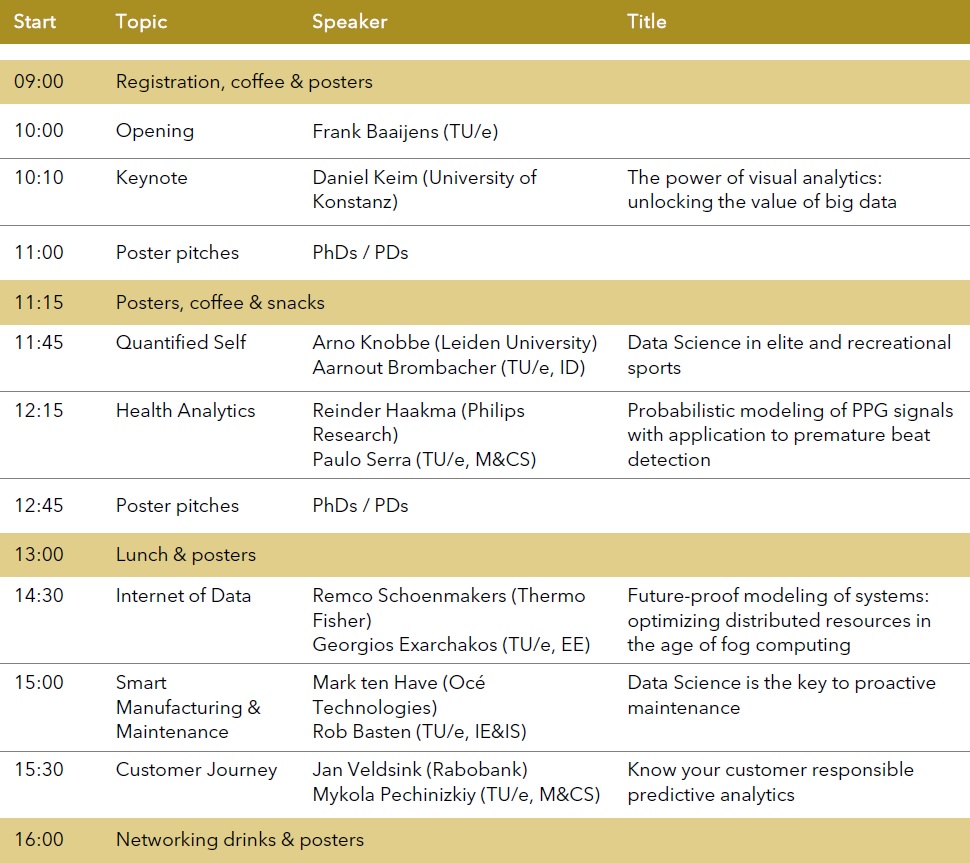 For registrees, the Summit is free of charge. However, we have to charge € 25 for no-shows (to cover costs of drinks, lunch and snacks that are not consumed).
Please note that a professional photographer will take pictures of the audience during the lectures and the poster sessions. By registering for the Summit you agree to these photos being taken and the possibility of those images being used on our website to give a general impression of the day.