Description
*** We reached the maximum number of registrations. If you would like to submit your name to a waiting list, please send an email to dsce@tue.nl ***
The Annual Data Science Summit Eindhoven, organized by DSCE, takes place in the Frits Philips Muziekgebouw in Eindhoven on Tuesday November 12, 2019. The goal of the summit is to show our interesting scientific research that is done in close cooperation with and inspired by industry. We will use the same format as the very successful edition of last year, so we hope and expect another full day.
We are very pleased to unveil all speakers for this year's edition. This year we will end the program with an interactive panel discussion on Responsible Data Science, with interesting and inspiring panel members. This will certainly lead to exciting follow-up discussions during the network drinks after the formal program.
Like last years, there will be sufficient time for discussion and hands-on idea sharing during the poster sessions, where you can learn and discuss interesting examples of Data Science methods and applications with practitioners. The day is aimed at a broad audience: from (research) specialists in the field to applicants and practitioners. We want to inspire and give directions for solving your specific challenges. More information & abstracts.
SPEAKERS



PROGRAM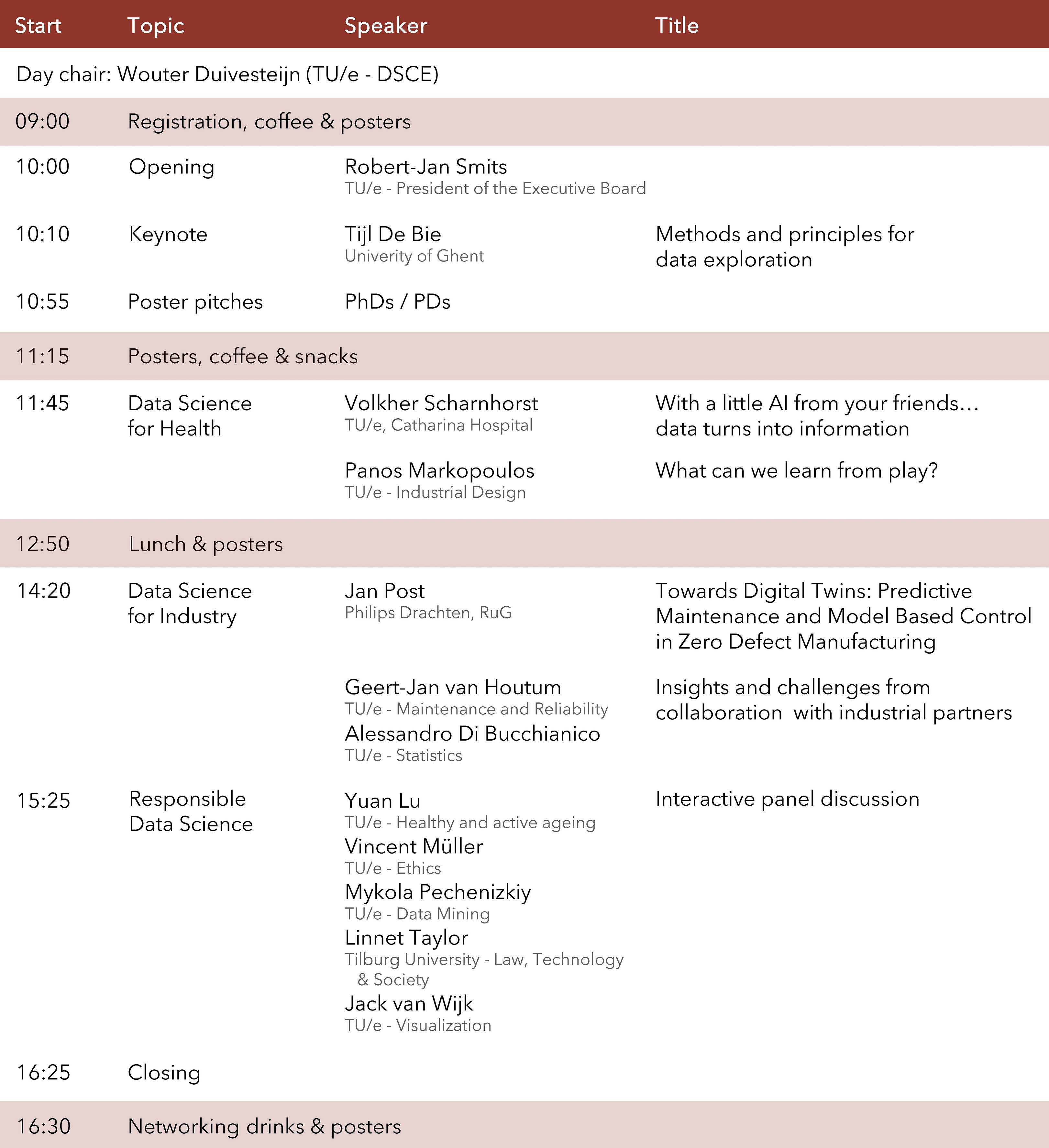 Visit Tue.nl/summit for all abstracts and biographies.

For registrees, the Summit is free of charge. However, we have to charge € 25 for no-shows (to cover costs of drinks, lunch and snacks that are not consumed).
Please note that a professional photographer will take pictures of the audience during the lectures and the poster sessions. By registering for the Summit you agree to these photos being taken and the possibility of those images being used on our website to give a general impression of the day.