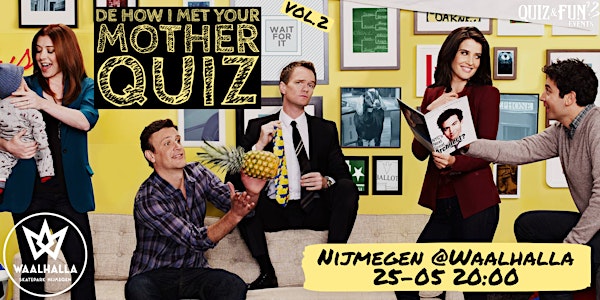 De How i Met Your Mother Quiz vol.2 | Nijmegen
It's going to be LEGEN…..wait for it…..DARY
When and where
Location
Waalhalla 12 Winselingseweg 6541 AK Nijmegen Netherlands
About this event
< For English scroll down >
How I Met Your Mother kluisterde jarenlang de liefhebbers aan de buis met de prachtige mix van romantiek, emotie en humor. Door de unieke storytelling verveelde geen enkele aflevering en bleef het tot einde een grote hit dat karakters als Barney en Ted onsterfelijk maakte.
Of je een groot fan bent of niet, de serie spreekt nog steeds tot de verbeelding en vanavond krijg je de kans om erachter te komen hoeveel er bij je vrienden en jou is blijven hangen uit de maar liefst 208 afleveringen.
Denk jij te weten exact hoe de verhaallijn in elkaar steekt, weet jij alle karakters en personages te benoemen en quotes uit de serie af te maken?
Stel dan je LaserTag team samen en kom meedoen in 8 ronde's met vragen, foto's en heel veel fragmenten worden jullie getest van jullie kennis over eendjes op stropdassen, de blauwe hoorn en ananassen .
De quiz is al eens eerder gehouden op 9 september 2020 en in andere steden.
Heb je de quiz al eens meegespeeld maar wil je hem nog een keer doen?
Dat kan, echter speel je wel voor spek en bonen en een gezellige avond.
Belangrijk:
- Deelname €17,50 per team.
- Teams van 2 t/m 5
- Geef van te voren je teamnaam door
Not speaking Dutch? and you would like to play the quiz in English. This is not a problem. We will translate the questions in English for you!
Important:
- Participation € 17.50 per team.
- Teams from 2 to 5
- Provide your team name in advance
Refunds ivm verzetting kunnen aangevraagd worden tot 2 weken voor aanvang.
#waalhalla #pubquiz #trivia #quiznight #quizfunevents #nijmegen #uitgaannijmegen