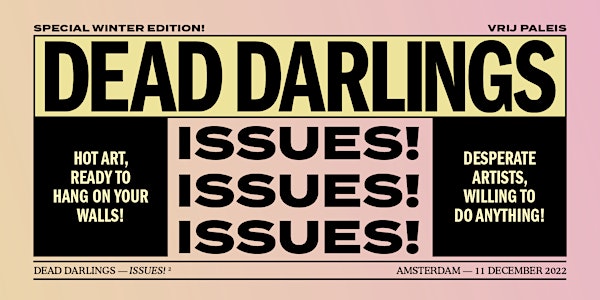 Dead Darlings #15 Issues!² - Winter
Dead Darlings is back with its special winter edition!
When and where
Location
Vrij Paleis Paleisstraat 107 1012 ZL Amsterdam Netherlands
About this event
Dead Darlings are excited to invite you to our upcoming anonymous art auction, winter edition Issues!²
This will wrap up the second part of our 15th edition under the theme issues and it will take place smack in the middle of Amsterdam at the historical artist-run space Vrij Paleis!
Inspired by the original function of Vrij Paleis as a printing press, and the swelling tide of issues developing in our times, we have entitled our upcoming auction: Issues!² Yes, as in the issue of a newspaper but also interpreting broader definitions of the word such as: the matter in question, a predicament, a consequence, or a thing under discussion. Artists responded to our open call, and 50 artworks have been selected for the cozy and festive Winter edition!
The space will be open for preview 1-6 pm on Saturday 10th, and 1-4 pm on Sunday 11th. Make sure you come early enough to give yourself time to browse the artworks and find a good spot!
How our auction works:
Entrance is free, all are welcome. To bid at the auction you need to register and get a paddle. Our amazing tabloid newspaper catalogue — a homage to our hosting space — will be available from Saturday and can be yours for a mere five euros! With the catalogue you receive a free numbered paddle to bid with! We highly recommend you obtain one to help you navigate the auction and support Dead Darlings. For the summer edition we made a serious Broadsheet paper, but this time you are in for a more fun tabloid edition, complete with the zany sensationalist headlines of that genre that will tell the story and hopefully also make you smile.
With each catalogue you will also get a free beer from Oedipus no less, who are generously providing our event with their sensational beers! Our auction is conducted in a comfortable informal atmosphere, where guests are free to come and go. There will be a bar and a break in the middle.
You can pay cash or card, and may take your artwork home immediately after the sale!
Bring good vibes, your wallet, your friends, and leave the rest to us!