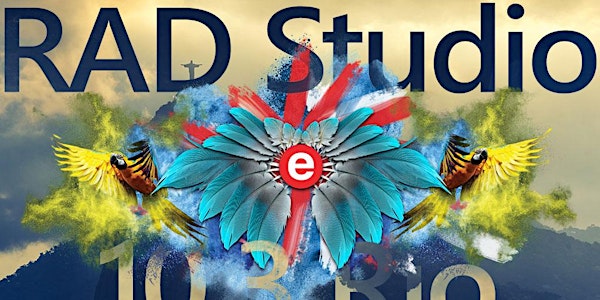 Delphi Day 2019
When and where
Location
Business Faculty 6 Sint Lendriksborre 1120 Brussel Belgium
Description
Join Barnsten and the Delphi Experts at the Delphi Day 2019!

This is a day packed with technical sessions to learn more about the new features and enhancements in Delphi 10.3.1. The speakers will show you why you should use the new language features and architectures and how to modernize your applications. Also they explain how to bring your Delphi applications to the Web using RAD Server or TMS WEB Core. Learn about all the possibilities and decide what is best for you and your company. And last but not least we have a very interesting case study presented by a Belgian Delphi customer.
This is a great chance to hear and speak to the Delphi experts and meet your colleague Delphi developers.
If you are new to Delphi or if you are on an older version you can download and test the software yourself: free trial version.

Agenda:
09:00-09:30
Welcome with coffee/tea/cake
09:30-10:00 Introduction and roadmap - by Barnsten

10:00-11:30 - RAD Server in Action - by Danny Wind
Learn how to use RAD Server on a private Windows Server or cloud host on Amazon, Rackspace or Azure Clouds. And how you can easily integrate REST cloud services..
11:30-11:45 - Break
11:45-12:45 - Modernizing your Delphi Language- by Bob Swart
De average Delphi developer has many years of experience with Delphi, and well acquainted with the average capabilities of the Delphi language. However, in the past decade, a number of extensions and enhancements have been added to the Delphi language. In this session, Bob will explain and demonstrate some of the more powerful features that may be known, but are not often used, like generics, anonymous methods, record and class helpers, threading as well as the new in-place variable declaration possibilities, all in order to modernize our use of the Delphi language.
12:45-13:30 - Lunch
13:30-14:30 - Using Delphi as a high-performant transaction-engine in a retail cloud product - by Jan Jacobs
Tilroy is a SaaS cloud product for retailers selling in-store and online. The point of sales and the webshop are using the same data,transaction- and promotion engine.
Although the majority of the system is build using Java and nodejs, we use the power of Delphi to process transactions and manage complex promotions.Learn how we used Delphi in combination with other technologies like nodejs and mongodb to process a large number of transactions in shops and webshops.
14:30-14:50 - Break
14:50-15:50 - Go to the web and beyond with Delphi and TMS WEB Core - by Bruno Fierens

TMS WEB Core is a framework that enables to create rich web client applications from Delphi with RAD methodology.The Delphi developed web client can use all power of HTML/CSS to design spectacular interfaces. This same technology can now also be applied to create cross-platform installable & offline-usable smartphone applications as well as cross-platform desktop applications for Windows, macOS and Linux. In this session, we offer an overview and hands-on examples of all new powerful capabilities.
16:00-17:00 - 2020 Vision for Delphi - by Danny Wind
Futureproof your Delphi applications, start now to take the lead in 2020.
In this session I'll demo several tecniques to achieve this, like parallel code with TTask, visualization of workflow, adding spotlight search, companion apps and other quick-wins and tips.

17:00 Q&A
The ticket price is € 69,95 incl. VAT, coffee/tea/refreshments and lunch.
Tickets are non-refundable but may be used by a colleage if you can't attend.
Sessions are subject to change due to unforeseen circumstances