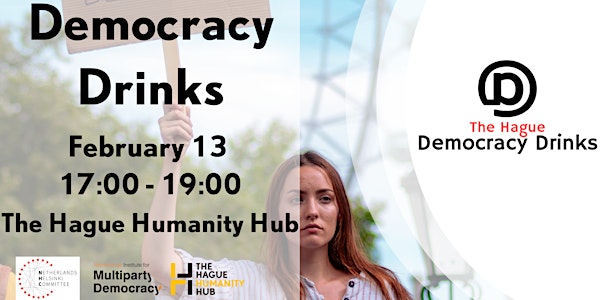 Democracy Drinks: Local governance and democracy
Every month, democracy advocates, thinkers and enthusiasts meet up at informal networking events known as #DemocracyDrinks.
By Democracy Drinks the Hague
Date and time
Monday, February 13 · 5 - 7pm CET
Location
Humanity Hub City Centre 58 Fluwelen Burgwal 2511 CJ Den Haag Netherlands
About this event
#DemocracyDrinks brings together democracy advocates, thinkers and enthusiasts at informal networking events. It is a great way of making new contacts and catching up with people you know; for testing ideas and planning actions; for moral support and inspiration. Feel free to invite friends and colleagues that work on or are interested in defending values like democracy, rule of law, human rights… Come along and you will be made welcome.
The Hague Humanity Hub is pleased to be organizing the next edition of #DemocracyDrinks with a focus on local democracy on 13 February 2023. This event series is a collaboration between the Netherlands Helsinki Committee (NHC) and the Netherlands Institute for Multiparty Democracy (NIMD) and The Hague Humanity Hub.
In addition to the informal networking at the core of #DemocracyDrinks, we will also hear from Job van der Poel, Programme Manager and Trainer at The Hague Academy for Local Governance. In local governance has a large impact on the lives of the people it reaches directly and in the ways, it plays into overall national governance. Therefore, it is important to explore the central role of local governance and democracy and how it can be strengthened.
#DemocracyDrinks were launched in 2018 by Defend Democracy Executive Director Alice Stollmeyer. Over time, #DemocracyDrinks have expanded their reach and have been organized in Aarhus, Berlin, Brussels, Budapest, Copenhagen, Kathmandu, Montreal, The Hague and Washington DC, and soon also in other cities. The events attract a lively mixture of people from NGOs, international institutions, think tanks, national governments and representations, academia, public affairs consultancies, social businesses and other active citizens.
Photography disclaimer:
Please note that during Democracy Drinks a photographer and/or videographer will be present in order to take picture, for use by The Hague Humanity Hub and its partners in future marketing efforts. These can include social media usage, blog posts, as general marketing material, and to market future events and initiatives. By attending Democracy Drinks you give permission for your image to be used to promote The Hague Humanity Hub, Netherlands Helsinki Committee, and Netherlands Institute for Multiparty Democracy in the future. You can withdraw your consent by emailing democracydrinksthehague@gmail.com and specifying the event in question (as well as by providing details to help us identify you). Once consent has been withdrawn, The Hague Humanity Hub, Netherlands Helsinki Committee, and Netherlands Institute for Multiparty Democracy will delete any photo of you as soon as is possible. If you'd like to not be featured in any image and/or video capture in an upcoming event, please notify democracydrinksthehague@gmail.com and we will take step to ensure you are not included in any photos or videos. Thank you for your cooperation!