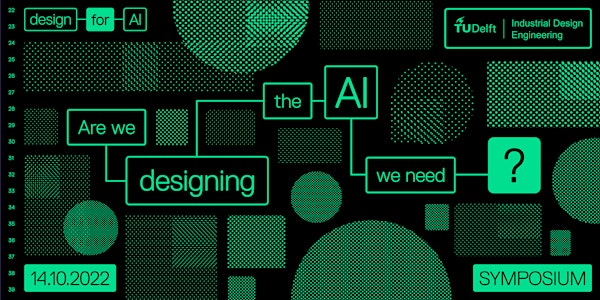 Design for AI Symposium
IN-PERSON TICKETS ARE SOLD OUT, LIVESTREAM TICKETS STILL AVAILABLE
By Faculty of Industrial Design Engineering of Delft University of Technology
When and where
Date and time
Fri, 14 Oct 2022 09:00 - 18:00 CEST
Location
Mondai | House of AI at NEXT Delft 8 Molengraaffsingel 2629 JD Delft Netherlands
Refund Policy
Refunds up to 1 day before event
Eventbrite's fee is nonrefundable.
About this event
Design for AI - "Are we designing the AI we need?"
Artificial Intelligence is a catalyst for innovation and reshapes the relationship between humans and technology. In a world full of artificial intelligence, how do we design spaces and opportunities for human growth and wellbeing? How do we design an AI-mediated society for individuals and communities? How to build safe and meaningful relationships between AI and people?
At the first Design for AI symposium, scientists and practitioners from multiple disciplines will discuss the technological, scientific, and societal challenges of building an AI-mediated society that guarantees safe and just futures for people and the planet. The symposm features a line-up of world-leading AI researchers and designers and a rich program of workshops and discussions.
Together, we will explore how design can and should shape the future of AI, and how AI creates novel opportunities for design.
NOTE: IN-PERSON TICKETS ARE SOLD OUT. LIVESTREAM TICKETS ARE STILL AVAILABLE
This is a program of TU Delft Industrial Design Engineering with main sponsor Kickstart AI in collaboration with TU Delft AI Initiative and Mondai | House of AI at NEXT Delft

Our Speakers
Elizabeth Churchill (Director of UX at Google & Executive VP at ACM)
Elizabeth Churchill is a Director of UX at Google and Executive VP of the Association of Computing Machinery (ACM). With a background in psychology, Artificial Intelligence, and Cognitive Science, she draws on social, computer, engineering, and data sciences to create innovative end-user applications and services. She has built research teams at Google, eBay, Yahoo, PARC, and FujiXerox. In 2016, she received a Citris-Banatao Institute Award Athena Award for Women in Technology for her Executive Leadership. She has been named one of the top women leaders in UX over the last several years. Her current focus is on the design of effective developer tooling.
John Zimmermann (Professor at HCI Institute of Carnegie Mellon University)
John Zimmerman researches human-AI interaction, human-robot interaction, and innovation with analytics and AI. For more than twenty years, he has designed novel, intelligent systems ranging from one of the first TV show recommenders to a crowdsourced, transit arrival system to a decision support tool for implanting mechanical hearts to a system that keeps parents from forgetting to pick up their children. He has published more than 150 papers, is a member of the ACM CHI Academy, and while working for Philips, he invented the way everyone scrolls on their smartphone. He teaches courses in service design, lean startup, and on the design of AI products and services.
Caroline Sinders (Critical designer, researcher & artist)
Caroline Sinders is an award winning critical designer, researcher, and artist. For the past few years, she has been examining the intersections of AI, intersectional justice, systems design, harm, and politics in digital conversational spaces and technology platforms. She has worked with the United Nations, Amnesty International, IBM Watson, the Wikimedia Foundation, and others. Sinders has held numerous fellowships, such as with the Harvard Kennedy School, Google's PAIR (People and Artificial Intelligence Research group), Ars Electronica's AI Lab, the Weizenbaum Institute, the Mozilla Foundation and Ars Electronica. Her work has been featured in the Tate Exchange in Tate Modern, Victoria and Albert Museum, MoMA PS1, Wired and many others.
Matt Jones (Principal Designer at Lunar Energy)
Matt Jones is Principal Designer at Lunar Energy a smart battery company enabling decarbonisation. He has been designing digital products and services since 1995 at organizations such as the BBC and Nokia. From 2009-2013 he was a principal at BERG, a design and invention company in London that had projects exhibited in MoMA, and products featured in the FT, FastCompany, Wired and Marvel comics. In 2013 he moved to New York City to join Google Creative Lab where projects he worked on included Google Expeditions and Sunroof. In 2016 he returned to London as part of Google's Research division, where he worked on AI concepts for hardware and services until 2021. He originally studied Architecture, has written on interaction design (amongst other things) for 20 years at petafloptimism.com and has taught design at the RCA, Goldsmiths, SVA, Umea and CIID.
Elisa Giaccardi (Host - Professor at Industrial Design Engineering TU Delft)
Elisa Giaccardi is a professor in Post-industrial Design at the Faculty of Industrial Design Engineering, TU Delft. She is also the Coordinator of DCODE (H2020) and WP Leader for Entangled Interactions. Her pioneering work in metadesign and today in more-than-human design has contributed significantly to the development of post-industrial and post-humanist approaches in design and HCI. She is a founding member of AiTech, the campus-wide initiative for responsible design and engineering of AI systems that spearheaded TU Delft AI strategy.
Dave Murray-Rust (Host - Associate Professor at Industrial Design Engineering TU Delft)
Dave Murray-Rust is Associate Professor in Human-Algorithm Interaction Design at the Faculty of Industrial Design Engineering. He explores the messy terrain between people, data, algorithms and things through a combination of making and thinking to build better futures for humans and AI. He also holds an Honorary Fellowship with the University of Edinburgh. His work centres on systems that use data as a medium for design while exploring social and technical issues and the agencies between humans and machines. It is multidisciplinary, touching on computer science, design theories, design ethnography and digital sociology. This involves questions such as how to design the interactions that let machine learning algorithms develop amicable co-dependencies with humans, how artificial intelligence can make sense of human behaviour to support design insights, and how designerly approaches can improve the understanding and creation of data driven systems and improve the societal functioning of AI as a discipline.

Workshops
Human Centered AI Systems Deep Dive (Round 1 & Round 2)
Enjoy a fun way to learn about the challenges and potentials of AI by generating your own images. This workshop will expose the issues of designing for AI through provocative experimentation with recent prompt based text-to-image generators such as Dall-E 2 or Diffusion Bee. For a complete experience, the workshop requires a laptop or other device for attendees to participate. This workshop is led by key researchers of the TU Delft AI Initiative Program to explore the role of design in AI research.
AI-enabled Design Research: Opportunities and Challenges (Round 1)
Artificial intelligence has the potential to transform design and design research. Recent advances in large-scale, deep learning models not only suggest an important role for AI in augmenting human creativity, but also hint at new opportunities for AI-enabled research in design culture, design cognition, design methods and design engineering.
This workshop will explore challenges and opportunities for AI-based design research, such as: a) How can we use AI to harness large amounts of design-relevant data?, b) How can AI account for the subjective, experiential, and culture-dependent nature of design?, c)What AI tools and infrastructure do we need to enable transformative research on the intersection of design and AI?
The aim of this workshop is to bring together design and AI researchers, educators and practitioners to develop an interdisciplinary AI/design research roadmap, create a community and devise concrete follow-up activities.
This workshop is organized by Professor Gerd Kortuem (TU Delft) in collaboration with Professor Ian Gibson (University of Twente) and Matthias Funk (Eindhoven University of Technology).
CHI Nederland (Round 2)
CHI NL is developing a national agenda for human computer interaction research in the country. During the workshop, we will initiate an open discussion about the agenda. The workshop is open to members of the CHI NL community that will be attending the symposium. Community members not attending the symposium will be welcome to join via livestream. Details about the livestream feed will be shared in the CHI NL Slack channel.
Full Program
Morning program
9:00 Opening of the day
9:15 Elizabeth Churchill: What is AI anyway?
9:45 Matt Jones: Optometrists, Octopii, Rubber Ducks & Centaurs
10:20 Panel discussion and Q&A
11:00 Coffee break
11:15 Workshop round 1: HCAIS workshop // AI-Enabled Design Research
13:00 Lunch
Afternoon program
14:00 Workshop round 2: HCAIS workshop // CHI NL
15:30 Coffee break
15:45 Caroline Sinders: Using Design and Art as Provocations for Responsible Technology
16:15 John Zimmerman: Closing the AI innovation Gap
16:45 Panel discussion and Q&A
17:45 Closing of the day
18:00 Networking drinks
19:30 End
About the Space
NEXT Delft is an impact driven, start-up, scale up community building in Delft, which is the home of Mondai, TU Delft's House of AI. The building is designed to accommodate businesses developing technological and sustainable innovations, with a focus on delivering social impact. It has inspiring meeting locations, and an open space for lectures and exhibitions. It's also next to Europe's Leading Tech Incubator, YES!Delft.
About Faculty of Industrial Design Engineering
Pioneering AI Design for Society: IDE AI is a group of visionary researchers creating new strategies for AI. We think creatively and critically about how humans and non-humans interact and form ecologies. We are creating a shared culture, vocabulary, and new scientific and design methods for AI.  Our research themes are Trustworthy AI, Collaborations with AI, New Forms of AI, led by Professors Alessandro Bozzon, Elisa Giaccardi, Gerd Kortuem and Peter Lloyd. Examples of our research: AI Futures Lab, Designing Intelligence Lab, Expressive Intelligence Lab and visit our website for more information: www.tudelft.nl/ide