Design for Virtual Theatre & Games (DVTG), HKU Utrecht, minifestival & meeloop dag 28 april 2011

Thursday, April 28, 2011 from 10:00 AM to 9:00 PM (CEST)
Event Details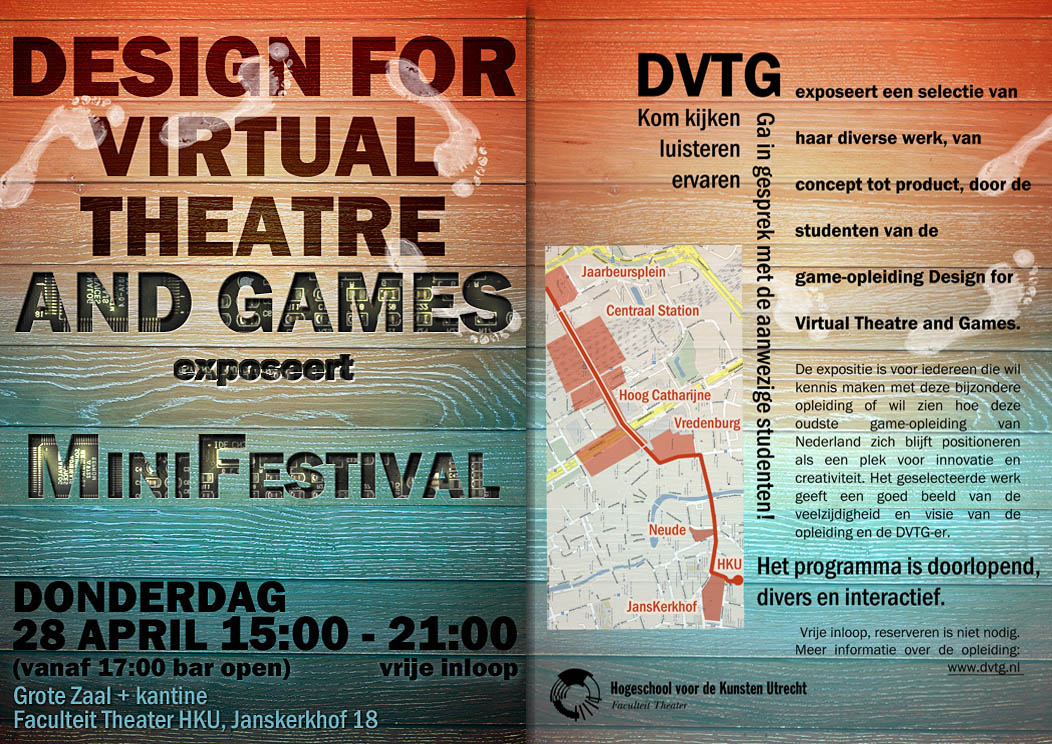 Design for Virtual Theatre and Games

Met de afstudeerrichting Bachelor of Art and Technology in Design for Virtual Theatre and Games (DVTG) word je opgeleid tot ontwerper van ervaringen. De opleiding richt zich op het gebied tussen games en theater: waar games kunst worden en theater interactief wordt. Je gebruikt technieken uit het theater om nieuwe games te ontwikkelen, en interactieve (game) technieken om theater te maken.
Bij de IGF Award 2011 in San Francisco begin deze maand, zijn van de 10 nominaties van wereldwijde ingezonden games er 3 genomineerd van de Games & Interactie cluster van de HKU. Hiervan is één game "Böhm" gemaakt door Monobanda, een collectief van 5 kunstenaars die allen aan  de opleiding DVTG zijn afgestudeerd.
Wat leer je nou bij DVTG en wat kun je ermee en hoe ervaar je als student van DVTG een dag op school?
---
Wil je ook per 1 september starten aan deze opleiding van de Hogeschool voor de Kunsten Utrecht (HKU)?
---
dan is donderdag 28 april de gelegenheid om intensief kennis te maken met de opleiding.
Op een interactieve manier kun je meekijken bij de lessen van studenten.
In grote lijnen ziet het programma er als volgt uit (ovb)
9.30 uur inloop/verzamelen in de kantine van de Faculteit Theater
10.00-11.00 uur Welkom/Introductie/Rondleiding door gebouw
11.00-12.15 uur DVTG2 les Tekenatelier docent Lijntje Helweg
pauze
13.00-14.30 uur DVTG1 vrije project - begeleidingsles bijwonen - Docent Arnaud Loonstra
14.30-15.00 uur Informatie over toelatingsselectie/vragenronde
vanaf 15.00-17.00 uur Minifestival Grote Zaal
bar open vanaf 17.00 uur minifestival gaat door tot 21.00 uur
Registreer je hierboven door een gratis ticket te bestellen (wees er snel bij ivm beperkte ruimte in de klassen).
Er is een Meeloopdag Ticket (incl minifestival) en een Minifestival Ticket.
Wij verwelkomen je met je ticket graag op donderdag 28 april 2011 bij ons op de opleiding.
Kun je niet op de meeloopdag kom dan later in de middag/avond naar ons Minifestival in het akademietheater van de Faculteit Theater. meer info via www.hku.nl/theateragenda
---
Informatie over wat DVTG'ers maken en meer informatie over de opleiding vind je terug op www.dvtg.nl
---
Wil je meedoen met de selectieronde (13 april, 11 mei, 8 juni) voor een plaats bij de opleiding?
Dan adviseren we je om je via studielink alvast aan te melden voor onze opleiding (je krijgt dan de opdracht toegemaild zodat je tijdig op de hoogte bent van deze procedure - oa het maken/uitwerken van een kleine opdracht) na de meeloopdag je aanmelden is natuurlijk ook nog mogelijk maar het scheelt je voorbereidingstijd om dit in een eerder stadium te doen. Meld je tijdig in studielink aan en houdt er rekening mee dat het aantal plaatsen bij de selectie beperkt is en vol is vol (we nemen maximaal 20 studenten aan) 
Namens de opleiding Design for Virtual Theatre & Games hopen we je donderdag 28 april te ontmoeten.
Have questions about Design for Virtual Theatre & Games (DVTG), HKU Utrecht, minifestival & meeloop dag 28 april 2011?
Contact HKU Theater IPD
When & Where

Faculteit Theater - Kantine
Janskerkhof 18
3512 BM Utrecht
Netherlands


Thursday, April 28, 2011 from 10:00 AM to 9:00 PM (CEST)
Add to my calendar
Organizer
HKU Theater
Interactive Performance Design (IPD)
Bachelor of Theatre
mail: ipd.theater@hku.nl
www.hku.nl/ipd