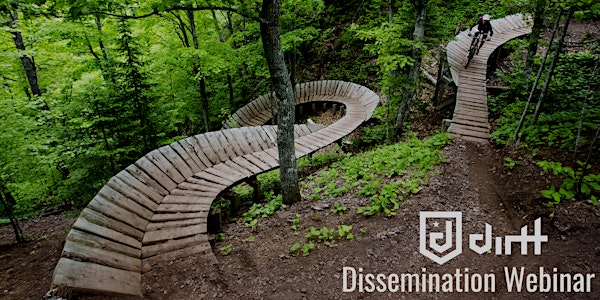 DIRTT Dissemination Webinar
Join the DIRTT Dissemination webinar to learn about the main outcomes of the project, and what the future holds for trail building in Europe
About this event
If you're unable to join the in-person DIRTT Dissemination Seminar in Norway, this webinar is for you!
The dissemination seminar aims to present and clarify the results achieved by the DIRTT project and to outline how the Educational Framework will be applied, now and in the future. The in-person seminar is spread of two days, starting Wednesday the 7th of September with introductory presentations, field visits and meeting the first class of trail building students.
The Thursday morning program will focus on the key deliverables of the project, the various elements of the Educational Framework including the trail sector market research, syllabus, training resources and various examples how trail building training can be delivered in the future. This part of the program will be availabe by livestream.
Program details
Thursday September 8th / 8:30am - 11:30 pm
8:30- 8:45- Opening speech by Eirik Hågensen, Dean of Fagskolen i Viken : Why Trail building as Vocational Education and Training matters.
8:45-09:30- The DIRTT resources: presenting the main outcomes of the DIRTT project and how to use them. Presentation by Lars Wraae Jensen, DIRTT project leader
Coffee break (30min)
10:00- 10:30- Vision for the future of Trail Building in the EU. Presentation by Mark Torsius, General Manager of IMBA Europe
10:30-11:00 - A national trail building & maintenance training program for volunteers. Presentation by Graeme McLean, head of Developing Mountain Biking in Scotland
11:00-11:30- DIRTT 2.0, how to move from an Educational Framework to a European Certification Framework. Presentation by Tommy Edvardsen Hvidsten, senior lecturer at Fagskolen i Viken