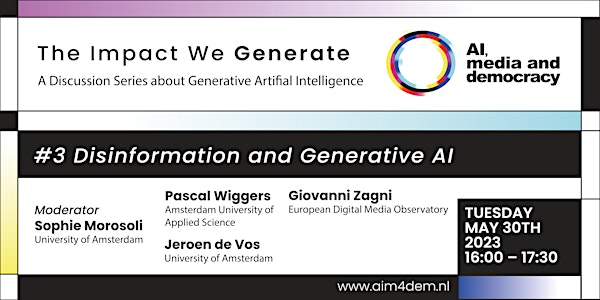 Discussion on Disinformation and Generative AI: 'The Impact We Generate'
Part 3 of a series of events that explores and discusses the pitfalls and possibilities of Generative AI.
By AI, Media & Democracy Lab
Date and time
Tue, 30 May 2023 07:00 - 08:30 PDT
About this event
1 hour 30 minutes

Mobile eTicket
About this discussion series
In recent months, increased media attention has been given to AI-driven applications like Stable Diffusion, Dall-E, GPT-3, ChatGPT and Bard. These programmes are commonly referred to as Generative AI: technologies that learn from existing data in order to produce new content, including audio, (realistic) images and art, chat, text and code. Though these technological innovations have sparked renewed enthusiasm and interest for the field of AI, their potential to disrupt and transform has also been met with concern.
In an effort to demystify the use of Generative AI, the AI, Media and Democracy Lab is organising a series of events that will explore and discuss the pitfalls and possibilities of the technology's transformative impact on the media and journalism industries: How can the sector reap the benefits of artificially created content in line with the industries' values, such as personal creativity, autonomy, user agency, transparency, objectivity, diversity, trust and authenticity?
Disinformation and Generative AI
News media and journalism perform a key democratic function: they act as a public watchdog and offer citizens a platform to impart, seek and receive information and engage in public and political dialogue. Does the integration of Generative AI in the media value chain affect the various societal functions news media and journalists perform? And could this alter social dynamics present in society, including how people and groups of people participate, engage and interact with one another?
In this final session, we explore one specific democratic threat, which is the (purposeful) use of generative technologies risk to intensify the manufacturing and dissemination of mis- and disinformation. In late March, faked arrest pictures of Donald Trump became a viral sensation. Though these images were quickly identified as having been produced by Generative AI, they also showcased these technologies' negative potential: not only were these images life-like, but they also tapped into feelings of civil unrest regarding the state of democracy and modern-day politics. As we enter the generative information age, these images serve as a warning call. Through a process of deconstruction, this session investigates how generative technologies operate and how their deployment might challenge media and journalism industries in their ability to scrutinise the truthfulness of news content.
Speakers
Sophie Morosoli (Moderator)
Sophie Morosoli is a postdoctoral researcher at the AI, Media and Democracy Lab. Her research focus within the lab revolves around studying the impacts and applications of AI from the user perspective. Previously, Sophie pursued her doctoral studies at the University of Antwerp, where she was affiliated with the research group Media, Movements and Politics (M²P). Her doctoral dissertation delved into both the invididual motivations behind spreading of disinformation, and the effect this phenomenon has on a larger scale.
Pascal Wiggers
Pascal Wiggers is Associate Lector Responsible Artificial Intelligence (AI) at the Amsterdam University of Applied Science (AUAS). He leads the Responsible Artificial Intelligence Lab, which is dedicated to conducting practice-based research on the effects of AI on individuals, society, and ethics. The team focuses on the design and development of responsible AI systems that align with public values and contextual considerations. They actively engage in constructing and, at times, deconstructing AI technologies to gain a deeper understanding of their implications. By doing so, they aim to develop responsible alternatives that address the shortcomings of existing AI technology. Pascal obtained his PhD at TU Delft in 2008 with the thesis "Modelling Context in Automatic Speech Recognition".
Giovanni Zagni
Giovanni Zagni, PhD, is the Director of the Italian fact-checking projects Pagella Politica and Facta.news. He is a member of the Executive board of the European Digital Media Observatory (EDMO). EDMO brings together fact-checkers, media literacy experts, and academic researchers to understand and analyse disinformation, in collaboration with media organisations, online platforms and media literacy practitioners. He is also on the executive board of the MSI-INF Committee of Experts on the Integrity of Online Information, established in 2022 by the Council of Europe.He served as a member of the Monitoring Unit on Disinformation around Covid-19 established by the Italian government in 2020.
Jeroen de Vos
Jeroen de Vos (MA) is an internet and market researcher specialized in both online and offline research. He has a background in media studies & cultural anthropology and is currently working on socially driven projects both inside and outside education. He combines online internet research with offline qualitative interviews to map social discussions. Jeroen is a researcher at the Lectorate Creative Media for Social Change of the Amsterdam University of Applied Science (AUAS), where he is part of a project that researches and develops a new form of media literacy to counter disinformation.