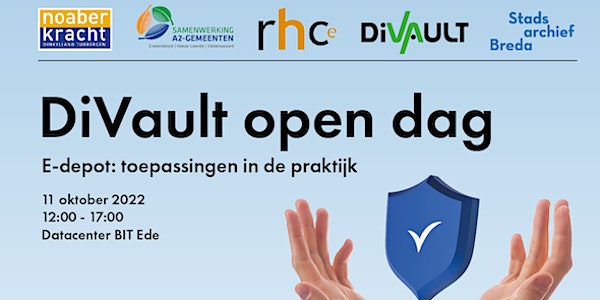 DiVault Opendag 2022
DiVault organiseert elk jaar een open dag waarin wij vooral klanten aan het woord laten om hun ervaringen te delen.
When and where
Location
BIT MeetMe 17 Galileïlaan 6716 BP Ede Netherlands
About this event
DiVault levert en ontwikkelt kennis, diensten en een duurzaam digitale bewaarplaats (DDB: e-depot, RMA) voor het preserveren van overheidsinformatie. Inmiddels zijn 44 overheidsorganisaties aangesloten op het DDB van DiVault. Grote uitdaging nu is het organiseren en opnemen van informatie vanuit hun bronomgevingen naar het DDB en vandaar beschikbaar stellen naar burger en ambtenaar.
Tijdens deze informatie sessie laten wij klanten aan het woord:
Noaberkracht vertelt hoe zij zelf intern met eigen medewerkers papieren bouwdossiers scannen, metadateren en direct opnemen in het E-depot.
Samenwerking A2 Gemeenten (Valkenswaard, Heeze-Leende en Cranendonck) vertellen hoe zij data uit oude applicaties (Verseon en Squit) organiseren, opschonen, migreren en uiteindelijk opnemen in hun eigen (pr)E-depot.
RHC Eindhoven (beheert voor 20 gemeenten de blijvend te bewaren analoge archieven en digitale informatie en voert het toezicht op het beheer van de nog niet overgebrachte archiefbescheiden uit) vertelt hoe de aangesloten gemeenten digitale informatie overbrengen naar het E-depot van het RHCe. Inmiddels hebben al 14 aangesloten gemeenten digitale informatie overgebracht naar het RHCe en 6 gemeenten maken al gebruik van het pre-depot waarmee zij zelfstandig (te bewaren en te vernietigen) informatie organiseren en duurzaam bewaren.
Stadsarchief Breda heeft ruim 1,5 miljoen bouwdossiers opgenomen in het e-depot. De afhandeling van burgeraanvragen is teruggebracht van 1 uur naar 2 minuten waarmee de dienstverlening enorm is verbeterd en de druk op het KCC is verminderd. SAB wil dit aanvraagproces nog verder automatiseren met inachtneming van de AVG en zonder alles te moeten annonimiseren.
Daarnaast vertelt DiVault hoe zij kijken naar onderwerpen als MDTO, Common Ground en Wet Open Overheid. In de pauzes en na de sessies zullen consultants en developers van DiVault vragen beantwoorden en demonstraties verzorgen van het DDB platform.
Het event is voor zowel klanten als andere geinteresseerden vanuit de (lokale) overheden of andere markten waarin digitale duurzaamheid een belangrijk thema is. Om de interactie zo groot mogelijk te laten zijn is de opzet klein en het aantal plaatsen beperkt.
Wat zijn de vervoers-/parkeermogelijkheden voor het evenement?
De lokatie is het makkelijkst met eigen vervoer te bereiken. Het openbaar vervoer van het station Ede naar de congreslocatie is niet optimaal. Hou rekening met langere reistijd.
Er zijn ruim voldoende parkeerplaatsen beschikbaar.
Hoe kan ik de organisator bereiken als ik vragen heb?
Voor vragen kunt u contact opnemen via info@divault.nl of 085-0090330
Wat is het restitutiebeleid?
Het evenement is kostenloos.