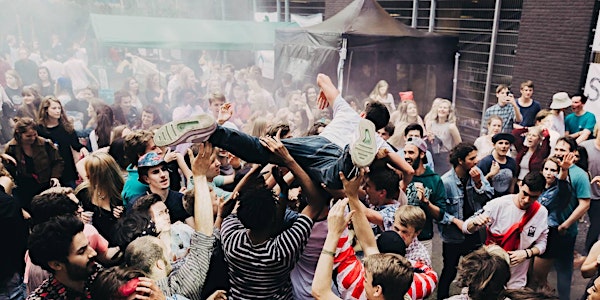 Dormfest 2022: Interstellar Odyssey
Dormfest 2022: Interstellar Odyssey Come join us on the 25th June in the middle courtyard from 12pm for a trip through space!
When and where
Location
The Dorms Carolina MacGillavrylaan 1600 1098XE Amsterdam Netherlands
Refund Policy
Contact the organiser to request a refund.
About this event
Dormfest 2022 is bringing Dormfest back
🎉 What is Dormfest? 🎉
Every year, the Dormfest team puts on the biggest event in the AUCSA calendar. A full on festival held right at the Dorms. The middle courtyard is transformed with themed decorations to set the scene for the activities run by committees and volunteers. There are also food and drinks from local favourites and a professional stage set up for talents from near and far to perform a range of incredible music until the sun sets.
🪐 What is happening this year? 🪐
Dormfest 2022: Interstellar Odyssey is bringing back the Dormfest set up you either know and love or have heard of and can't wait to experience. After two difficult years for the entertainment industry, Dormfest 2022 is coming back stronger than ever with an amazing theme, even better stalls and, most importantly, the best music. Come to the middle courtyard at 12pm to begin the festival with activities such as: jewellery making and facepaint to perfect your outfit, a bouncy castle to relax in and let your inner child loose, beer pong and spikeball to challenge your friends. There will also be food by The Duck Truck, the Potato Guy and Cuisine and refreshing drinks by Poesiat and Kater, Jarritos and AUCafe. At 13:00, the music starts and it won't stop until 23:00!
🚀 Important Information: 🚀
- Date: 25th June
- Time: 12:00-23:00
- Location: Middle Courtyard - The Dorms, Carolina Macgillavrylaan, 1098XE Amsterdam
- Theme: Interstellar Odyssey (dressing up encouraged)
- Activities: Festival games, photobooth, beer pong, space-themed jewellery making, face paint, games corner, bouncy castle, spikeball, DJ tent
- Unique Dormfest Festival wristband
- All ages welcome!
- Friends and family welcome!
- Free entry for AUC students (bring ID + proof of being an AUC student)
- €8.50 for alumni and externals (bring ID and note that on the door sale is increased to €10.50)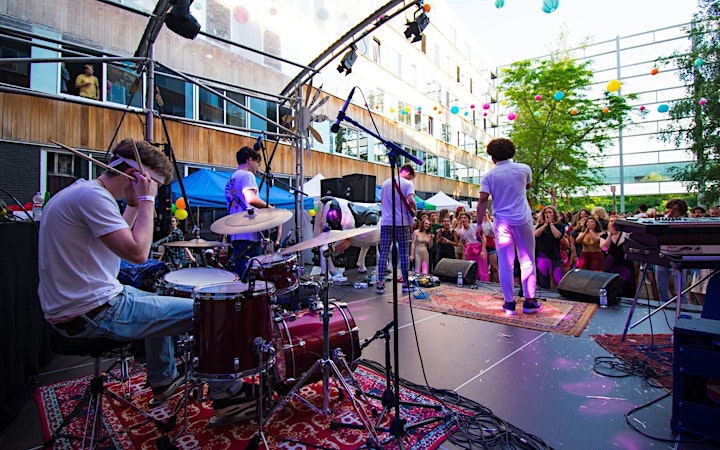 👽 What is the schedule of the day? 👽
12:00 - Doors open and activities begin
12:30 - Food and drink options are available
13:00 - Music acts and performances begin
Around 19:00 - Activities and food options end
23:00 - Dormfest 2022 ends...
Stay tuned to our Instagram for more information on this and check out the booklet below!
☄️What is the lineup this year? ☄️
Great question! We have a whole range of artists this year from hip-hop and jazz to indie and pop.
13:00 - 13:45 About Half
14:15 - 14:35 Kairosclerosis
15:05 - 15:50 Rodrigo Callejón Quintet
16:20 - 17:05 Aelia Sapph
17:30 - 17:45 Onion Peel
18:15 - 18:55 Go Fishing!
*Announce Handson Winner*
19:20 - 19:25 AUC Dance Performance
19:55 - 20:55 Brooks Journey
21:10 - 21:30 Helsow
22:00 - 23:00 Cardigan Inn
👀 Find out more about the AUC artists here
👀 Find out more about the external artists here
🎶 We also prepared this playlist on Spotify to get you in the Dormfest mood!
🌟 How do I sign up for the activities? 🌟
You have access to all the activities taking place in the courtyard with your ticket! Find out what activities are available here: https://www.instagram.com/p/CfEsaTto967/?hl=en
The AUCanDance workshop, to Levitating by Dua Lipa, taught by Lara is the only event which requires separate sign ups! Fill in this form to get a place: https://docs.google.com/forms/d/e/1FAIpQLSezddviUqJpf42Ep6RK0uvrvg6RYK4fLE2xJjwFzrFFcNbIeA/viewform
👩‍🚀 What do I wear? 👨‍🚀
Anything space-themed! Ready yourself for a space trip with extraterrestrial colours, inter-galactic designs or maybe an outfit that references some "space culture". We will also have space jewellery workshops and face paint to add to your outfits if you arrive with something simple. Keep in mind it will be sunny and you'll be wearing it all day so make sure you are comfortable! Need more inspiration? Check out the Instagram highlight named "Outfit Inspo"
🌖 Where can I find this information?🌖
The Dormfest team made a booklet which contains all this information and more. You can find an online version of this booklet here!
If you have any further questions, please don't hesitate to reach out to us via dormfest@aucsa.nl or DM us on Instagram