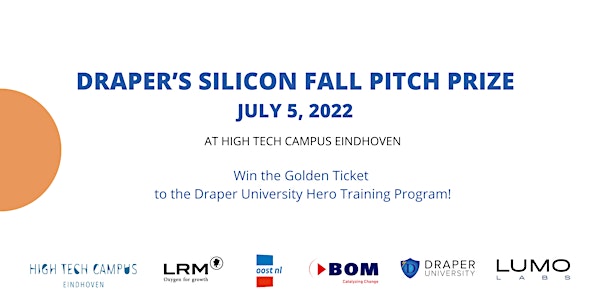 Draper's Silicon Fall Pitch Prize
Draper's Silicon Fall Pitch Prize Win the Golden Ticket to the Draper University Hero Training Program
When and where
Location
Conference Center High Tech Campus High Tech Campus The Strip 5656 AE Eindhoven 5656 AE Eindhoven Netherlands
About this event
This summer presents the unique opportunity for software and smart hardware startups to win a golden ticket to the five-week Draper University Hero Training program in San Mateo. This ultimate Silicon Valley accelerator experience is designed to provide founders with the skills, mindset and network to take their ventures to the next level with unprecedented speed and impact.
Draper's Silicon Fall Pitch Prize competition is the result of a partnership between LUMO Labs, Draper University and LUMO Labs' local ecosystem partners Oost NL, BOM, LRM and High Tech Campus Eindhoven.
The partnership underlines Draper University's commitment to connecting and supporting global innovation hubs as well as their emphasis on diversity and inclusivity concerning the program's participants.
Draper University was founded in 2012 by the legendary Silicon Valley venture capitalist Tim Draper with a vision and belief that in order to change the world, we have to change education. Through hands-on training, an innovative curriculum and thought leadership, Tim Draper brings together young entrepreneurs, startup founders, executives and investors all under one roof.
As avid supporters and promotors of the Eindhoven region's distinctive ecosystem for software and smart hardware, High Tech Campus Eindhoven, Oost NL, BOM, LRM and LUMO Labs have made it a habit to join forces to create unique opportunities for impact-driven emerging tech startups to gain global exposure and traction.
Book your place today and see you on the 5th of July!