Dreambuildrs Summer School
Introducing Dreambuildrs Summer School; the 3-day campus to get clarity on your life purpose and make concrete plans for a better future.
Refund Policy
Contact the organizer to request a refund.
Eventbrite's fee is nonrefundable.
About this event
What is insight without action? And how to take action without the right insight?
Many personal development programs lack the focus on either getting the right insights, or preparing for taking the right actions.
The Dreambuildrs Summer School is a 3-day online campus that aims to fill the gap that school never taught you: it's about discovering your true potential and learning how to live it out so that you can take the first steps to build a meaningful impact in the world.
Get yourself inspired by talks & masterclasses about personal transformations, practical tools and easy-to-apply next steps and surround yourself with a like-minded tribe of changemakers so that you can grow and evolve together in a supportive environment.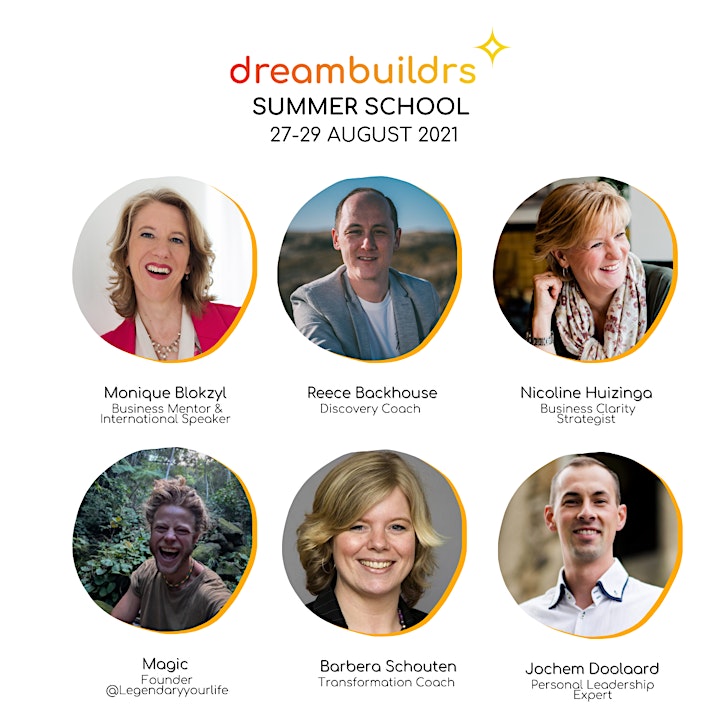 What to expect?
The Dreambuildrs Summer School will bring together brilliant teachers from different areas of expertise, so that you can kick-start your own personal transformation, find your unique message and launch your ideas to get started and make a positive impact in the world.
The program is designed as follows:
Day 1: Kickoff, Networking & Sharing Session - Connect with like-minded changemakers.
Day 2: Personal Transformation Day - Getting clarity on your purpose, eliminate fears and, limiting beliefs.
Day 3: Transformation in Action Day - Launch your unique message and translate your plans into action with essential building blocks for business.
+ BONUS Group Coaching & Accountability Session - 1 month after the Summer School there will be a complimentary group coaching and accountability session to meet with your tribe and follow up on the actions you have initiated. This is planned for October 1st, 2021.
Full program details below.

The Dreambuildrs Summer School is for you if...
You have always dreamt about doing something that's bigger than you.
You miss the meaning in your current job (and you just know that you are not going to stay much longer).
You know there is more potential in you than you are currently using and it's nagging you.
You would love to connect with like-minded peers who are all about living their purpose and building a positive impact in the world.
You want to start your side hustle or your own business as an entrepreneur
This is NOT for you if…
You are looking for a plug-and-play solution
You are not ready to throw in some metaphorical blood, sweat, and tears
You believe a more fulfilling life isn't possible for you
You are convinced others should solve your current problem for you

Program Outline
Day 1: Kickoff & Networking - Friday 27 August | 19:00 - 21:00 CEST |
Introduction to the Dreambuildrs Summer School and Tribe Connection Session to meet and build friendships with fellow changemakers who aspire to positively impact the world. Your host: Jochem Doolaard
Day 2: Personal Transformation Day - Saturday 28 August | 09:30 - 12:30 CEST |
1. Personal Transformation Story with Reece Backhouse - "Translating your story to the relevance of today"
Reece Backhouse will share a series of short, sharp, thought-provoking questions that offered an opportunity to grasp a new way of conceptualising his freedom. His transition from a corporate career path, to working and living this fulfilling role of being more connected with people also involved reconditioning, years of outdated beliefs, limited awareness, and defining what freedom really means and how exactly to value it.
Through Reece's story you will learn:
How to recognise impulse and gut feeling
How to measure satisfaction against fulfillment
Understanding that your past doesn't define your future
2. Masterclass in Personal Leadership with Jochem Doolaard
How do you feel when you wake up in the morning? Do you feel meh, ok, or excited? In this Masterclass, Jochem Doolaard shows which simple steps you can take to get clarity around your unique purpose and the great feeling that comes when you start living that.
In this Masterclass you will:
Learn what personal leadership is and define your own measures of success.
Get a framework to find drive, energy, and enrichment back in your daily life.
Know how to get more clarity on your life purpose.
3. Masterclass in Identifying and Overcoming Your Limiting Beliefs with Barbera Schouten
Self-limiting beliefs are those core nagging thoughts in your head that hold you back from achieving what you are truly capable of. They get in the way of what you think is possible for yourself and keep you from living your happiest, most fulfilling life. Barbera Schouten will tell you everything you need to know to identify and overcome your limiting beliefs.
The main takeaways:
What are beliefs? And how does your belief system work?
What types of beliefs do we have? And how do we create those beliefs?
How to identify your limiting beliefs? And how to let them go?
Day 3: Transformation In Action Day - Sunday 29 August | 09:30 - 13:30 CET |
1. Masterclass: Speak up! Realize Your Dreams Using The Power Of Your Voice with Monique Blokzyl
The main takeways of Monique's Masterclass:
Discover your authentic message that is worth sharing with millions
Get clear on your best audience that is keen to hear your message and willing to pay
Learn how to boost your visibility through speaking to attract the right people and opportunities
2. Personal Transformation Story with Magic
Through Magic's story you will learn:
How to live your purpose
How purpose finds you instead of you trying to find it
Magic is something you can create in all aspects of your life.
3. Masterclass Essential Building Blocks For Business with Nicoline Huizinga
Now that you've worked on your purpose, your limiting beliefs, and your mission, it's time to translate plans into action. Nicoline Huizinga is a seasoned business coach who will guide you through the essentials you need to run your own business.
After this masterclass, you will:
Know exactly what elements you need to run a successful business
Know what mistakes to avoid (and what to do instead)
Have a clear image of the first steps you can take after this Summer School
4. Final Celebration, Accountability & Tribe Connection Session
Build long-lasting connections with like-minded changemakers & get clear on the action steps you can take after the Summer School to build a positive impact on the world.
+ BONUS Group Coaching & Accountability Session: Friday 1 October | 19:00 - 21:00 CEST |
Complimentary group coaching and accountability session to meet with your tribe and follow up on the actions you have initiated after the Summer School.
----------------------------------------------------------------------------
What other changemakers tell about Dreambuildrs
"I found the key to unlocking my thinking process stuck for many months. I appreciated immensely connecting with one another and the discussions during the workshops were flowing and led to beautiful surprises for all of us." - Fanny Rebmann, Group HR Manager
"Dreambuildrs events are amazing. In the networking sessions, I received a flood of good ideas, sincere questions ,and incentives. Congratulations to the hosts for providing such a light and safe environment, one where we can be ourselves. Thank you!" - Fernanda Curto, Digital Marketeer
"Listening to inspiring speakers and connecting to great people. This is what you can expect from the events organized by The Dreambuildrs. I will meet you there!" - Sandra Costa, Senior Manager
"Learning from each other, overcoming yourself, enjoying the company of nice and interesting people, sharing the purpose and, summarising that, a Mindful Party – this is what I experienced at the events organised by dreambuildrs. You won't lack the inspiration to make a step towards your new reality." - Anya Zayats
" The Masterminds and events brought me new friends and people with whom I can share my progress and own struggles. Together we support each other's development and we allow each other to express our full potential, this is so powerful that it touches my heart." - Christiana Rocha, Facilitator Reconnective Healing .
-------------------------------------------------------------------------
More about Dreambuildrs: https://dreambuildrs.com/