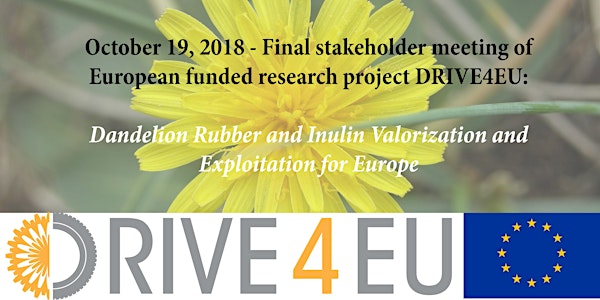 DRIVE4EU Final stakeholder workshop
When and where
Location
Agro Business Park 90 90 Agro Business Park 6708 Wageningen Netherlands
Description
Final stakeholder workshop of European funded research project DRIVE4EU - Dandelion Rubber and Inulin Valorization and Exploitation for Europe

You are most welcome at the DRIVE4EU final stakeholder workshop on October 19th, 2018 at KeyGene in Wageningen, NL. Registration is free. Feel invited to join and register via the button on this page.
The objective of "DRIVE4EU - Dandelion Rubber and Inulin Valorization and Exploitation for Europe" was to set up a new European chain for the production and processing of natural rubber. This enables the EU to become less dependent on the import of natural rubber and at the same time to respond to the threat of a global rubber shortage.
In this final exploitation workshop the main outputs, findings and key results of the DRIVE4EU project are presented. Next to this you will have the possibility to meet and discuss with all project partners and to have a look at the DRIVE4EU prototypes.
Program
10.00 am Registration / welcome KeyGene / welcome DRIVE4EU

10.30 am Start program
About DRIVE4EU - Ingrid van der Meer - WUR, Coordindator DRIVE4EU

An historical perspective on Rubber dandelion - Peter van Dijk - KeyGene

Short pitches of relevant WP leaders informing on most relevant results:

Breeding Dandelion and analysis of gene flow - WP 2/4, Rolf Mank - KeyGene

Agronomy, harvest and storage - WP3, Hilde Muylle - ILVO

Biorefinery and product uses - WP5/6, Frans Kappen - WUR

Economic analysis and LCA - WP7, Maria Hingsamer - Joanneum Research

12.30 Lunch around market place – each partner presents its contribution, expertise and know-how

14.00 Closing presentation by Fazilet Cinaralp - Secretary General ETRMA


15.00 Drink (& Bites)
About DRIVE4EU
European Project funded by the 7th Framework Programm

Start of project: 1st February 2014, end of project 31st July 2018

The project was coordinated by Wageningen University & Research
DRIVE4EU has received funding from the European Union's Seventh Framework Programm (FP7/2007-2013) under grant agreement n°613697. More information on the DRIVE4EU research project: www.drive4eu.eu