DSC/e Distinguished Lecture Ron S. Kenett: The Information Quality Framewor...
Description
DSC/e Distinguished Lecture Series
Professor dr. Ron S. Kenett:
The Information Quality Framework for Evaluating Manufacturing 4.0 Analytics.

Thursday June 1 2017 from 16:00 tot 17:00


Data Science Center Eindhoven


Kamer van Koophandel, De Grote Zaal
---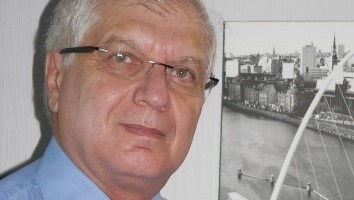 Ron S. Kenett
The Samuel Neaman Institute for National Policy Research, Technion, Israel KPA, Israel and University of Turin, Italy, ron@kpa-group.com
Abstract:
The elements of analytics in the context of big data include: i) Sensors and other data acquisition devices, ii) Cloud infrastructure to store raw data, iii) Data bus to receive data from the cloud, iv) Data storage and management system, to save relevant data, v) Data analytics engine and vi) Data visualization and rendering systems. The role of analytics in the context of advanced manufacturing (manufacturing 4.0) is to dramatically intensify applications of smart manufacturing using advanced data analytics, modeling and simulations, to produce a fundamental transformation to new product-based economics, flexible factories and demand-driven supply chain service enterprises. The talk will review and evaluate the various elements of data analytics in advanced manufacturing analytics. These methods are used to coordinate enterprise responses throughout the entire manufacturing supply chain, deploy predictive and preventive maintenance, and provide an integrated environment for engineering and multivariate process control. Additional objectives of analytics include minimizing energy and material usage and maximizing environmental sustainability, health and safety and economic competitiveness. The evaluation we present is based on the information quality (InfoQ) framework proposed by Kenett and Shmueli (JRSS, 2014). For a high level overview of InfoQ dimensions read more.
Keywords: Manufacturing 4.0, information quality, manufacturing analytics, big data
Bio:
Professor Ron Kenett is Chairman of the KPA Group, Israel, Research Professor, University of Turin, Italy, Senior Research Fellow at the Neaman Institute, Technion, Haifa and Visiting Professor at the Institute of Drug Research at the School of Medicine of the Hebrew University of Jerusalem, Israel. He is an applied statistician combining expertise in academic, consulting and business domains. Ron is Past President of the Israel Statistical Association (ISA) and of the European Network for Business and Industrial Statistics (ENBIS). He authored and co-authored over 200 papers and 12 books on topics such as biostatistics, healthcare, industrial statistics, data mining, customer surveys, multivariate quality control, risk management and integrated management models. The KPA Group he founded in 1994, is a leading Israeli firm focused on generating insights through analytics. He is editor in chief of StatsRef, serves on the editorial board of several international journals and was awarded the 2013 Greenfield Medal by the Royal Statistical Society in recognition for excellence in contributions to the applications of Statistics. He is member of the National Public Advisory Council for Statistics Israel and member of the Executive Academic Council, Wingate Academic College. His book (with Galit Shmueli), on Information Quality (InfoQ): The Potential of Data and Analytics to Generate Knowledge, (Wiley, 2016) is used in the design of Data Science programs and in addressing the issue of reproducibility in science. He founded the point and click translator company, Babylon.com and is member of the board of several startup companies. For a detailed CV click here, for video recordings of Ron's lectures click here.
---
PROGRAM

Date and time: June 1, 16:00 – 17.00
Location: Kamer van Koophandel, De Grote Zaal


15:30-16:00 Registration and coffee
16.00-17.00 Lecture by professor dr. Ron S. Kenett
17.00-18.00 Network drinks
---
The DSC/e is organizing several interesting events. If you are interested in a certain lecture or workshop please send an email to dsce@tue.nl or subscribe for our newsletter here.