DSC/e Lecture Series: June 18th, 2015: Alessandro Bassi

Thursday, June 18, 2015 from 12:30 PM to 1:30 PM (CEST)
Event Details
Sponsored by: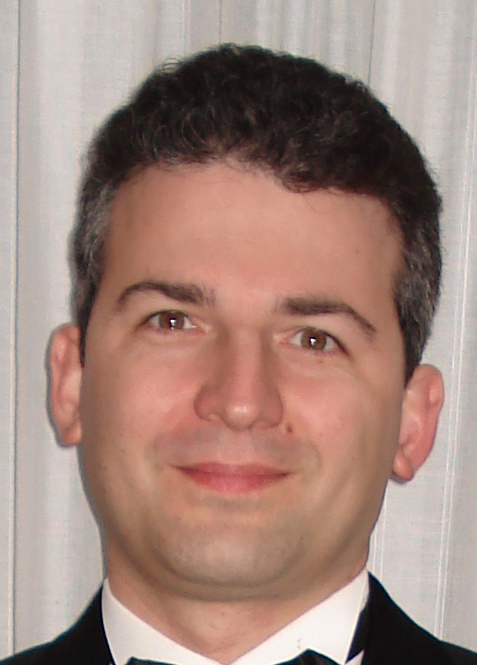 Title: How many drops are in the ocean? Reflections on the impact of IoT on Data Collection and analysis
By: dr. Alessandro Bassi
Bassi Consulting

Abstract:
According to Cisco, in one year there is the same amount of data collected as in the previous 5000. Despite some past claims that humanity was collecting too much data for the amount of storage that has been produced (just as an example, Fran Berman, Communication of the ACM, 12/2008), until today the situation did not change significantly. 
However, a huge change may happen if a fully fledged vision of IoT, with hundreds of billions of interconnected objects, will happen. Current network architectures are ill suited to cope with such a terabyte torrent, and major backbone upgrades in the coming future are not an option, given the long economic downturn. Therefore, the data issue can and will only be exacerbated in the coming future, and while the two disciplines of IoT and Big Data are inherently different, without a clear "big picture" one cannot happen without the other. In any case, current instruments seem rather ill-suited for the data avalanche.
A deep reflection on different data-centric architectures, looking at ways on how and where data should be analysed, is paramount, and will have deep implications in the way IoT needs to be developed. As well, considering as well that the value of data can be much higher of the device collecting it, new business models can be envisaged enabled by exaflood-sustainable architectures.
This talk will investigate these issues and indicate possible design patterns that could provide some solutions to this problem.
Bio:
Alessandro Bassi graduated in Computer Science from the University in Milan in 1994.
He joined Amadeus in January 1997, and he moved to the University of Tennessee in 2000, where he was involved in the seminal work of the Internet Backplane Protocol. From 2002 he then held a Research Visitor position at the Ecole Normale Superieure in Lyon, France. After working one year for RIPE NCC, in November 2004 he joined Hitachi Europe.
Since September 2010 an Independent Consultant, working on topics related to Big Data, Internet of Things and Smart Cities technologies.
He was the chair from 2007 until 2013 of the European Technology Platform on Smart Systems Integration "EPoSS" RFID / Internet of Things Working Group; currently, he is the co-chair of the Manufacturing WG. He was a member of the IoT Expert Group, nominated by the European Commission (2010-2012). Furthermore, he serves in the EU-China and EU-Taiwan Advisory Group.
He was is the Technical Coordinator of the lighthouse project regarding  the Internet of Things in the Framework Programme 7, 'Internet of Things - Architecture" (IoT-A).
He authored a book, "Enabling Things to Talk", on Internet of Things. 
Alessandro has been a keynote speaker in more than 100 events.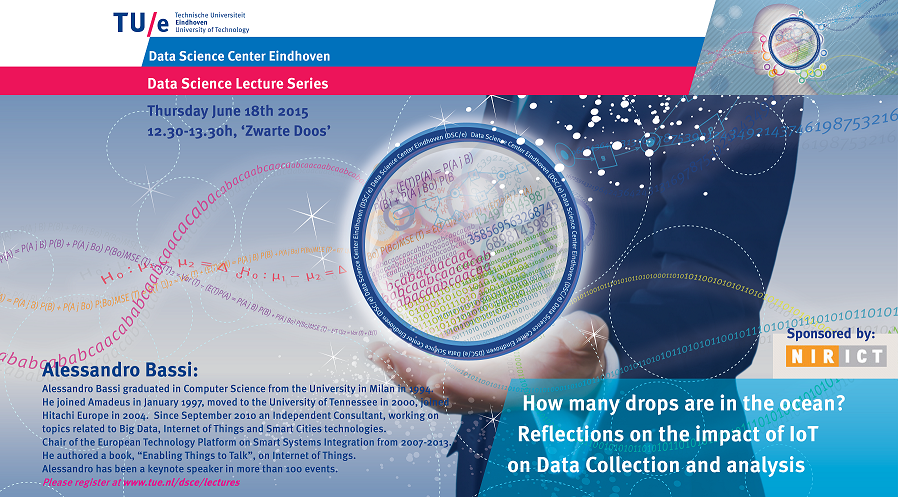 When & Where

Grand Café 'De Zwarte Doos'
Den Dolech 2
5612AZ Eindhoven
Netherlands


Thursday, June 18, 2015 from 12:30 PM to 1:30 PM (CEST)
Add to my calendar
Organizer
The DSCE (Data Science Center Eindhoven) brings together scientists from over thirty research groups from different TU/e departments to work together on specific topics. Jointly we can tackle the most demanding scientific and societal challenges. Data Science is an interdisciplinary field that uses scientific processes and systems to create value based on extracting knowledge and insights from available data.