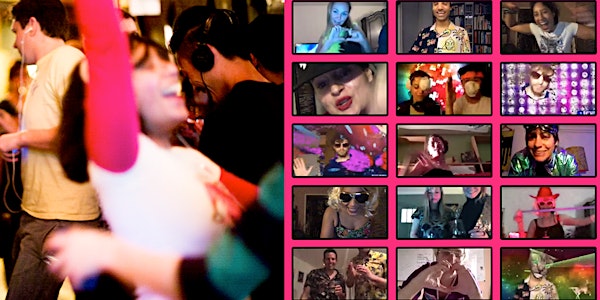 DuoDisco (Hybrid): join online or physical!
DuoDisco (hybrid) is a matchmaking dance party: find the person dancing to the same song!
When and where
Location
Tetem 16 Stroinksbleekweg 7523 ZL Enschede Netherlands
About this event
Join this unique experiment: Hybrid dancing 💃🏽 🕺🏽
DuoDisco (hybrid) is a matchmaking dance party: find the person dancing to the same song! Can you spot the person who is also grooving to The Pointer Sisters? Would you like to join your dance partner for the Rasputin dance?
JOIN DUODISCO (hybrid)
20:30 - 21:00 round 1
21:30 - 22:00 round 2
dress code: glitter + disco
How does it work?
You choose: become part of a dance floor, or join online.
Physical: join the dance party by scanning a qr code with your smartphone. The party takes place at Tetem in Enschede IRL while the online contestants are projected on a large wall overlooking the dance floor. One of the online dancers is dancing to the same song as you. Use your phone to select your match: if you find your dance partner first, you'll score the most points!
Online: join the dance game by clicking the link you will receive the day of the event. You'll need a laptop and a browser (Chrome, Safari or Edge). You'll see the other online contestants and the physical dance floor at Tetem. Now all you have to do is to find your dance partner!
>> after you sign up we will contact you with details!
The winner is…
At the end of the evening the score board will reveal who won the dance party with the most points. The winner receives a surprise goody bag.
Hybrid Spaces
Hybrid Spaces is a two-part experiment by affect lab, exploring hybrid performances and hybrid environments with the goal of creating meaningful and intimate encounters between physical and online audiences.
Collaborators
DuoDisco (hybrid) is created by the team behind the widely popular dance applications DuoDisco and Distance Disco (Arjan Scherpenisse, Mark Meeuwenoord, Frank Bosma & Klasien van de Zandschulp).