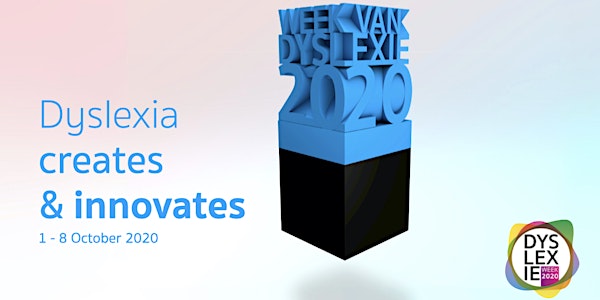 Dyslexia week NL 2020
The theme of this edition is, Dyslexia Creates and Innovates. A week full of knowledge, positivity and empowerment.
About this event
WELCOME AT DE WEEK VAN DYSLEXIE 2020
During the worldwide DYSLEXIA AWARENESS WEEK, HOI Foundation and Dyslexia Font will present the WEEK OF DYSLEXIE from 1 to 8 October. A week full of inspiring online sessions about the broad picture of dyslexia for parents, teachers, experts, employers, children and dyslexics themselves.
The theme of this edition is, Dyslexia Creates and Innovates. Throughout history the ability of dyslexics to think differently has made them "Game Changers". From the first phone to the iPhone 11 and from the first airplane to tourist space: all these innovations come from the shaft of dyslexics. And that's no coincidence! Dr. Maryanne Wolf (UCLA), Dr. Sally Shaywitz (Yale) and wonderful auteur Thomas West will talk about the power of "the other brain", the broad picture of dyslexia and improving self-confidence. To conclude, we are organising ABN AMRO "hiring out-of-the-box-thinkers". Successful dyslexics such as Dutch entrepreneurs Boris Veldhuijzen van Zanten (TNW) and Hennie van der Most will share their vision and experiences.
Approx. 50% of the program in english all other speaker will be in Dutch.
THE PROGRAM:
October 1st: Mark Mieras & Thomas G. WEst
October 2nd: Sally Shaywitz & Carolien Poels
October 4th: Nel Hofmeester & Linda Peperkoorn
October 5th: 'Samen voor empowerment' evenement
October 6th: Mariska Cornelissen & Maryanne Wolf
October 7th: Dean Bragonier & Chiquita Welmerink
Check out the full program at weekvandyslexie.nl/en
TICKETS:
Week ticket: €25,- excl. registration fees (access to all speakers from1 to 8 october)
Day ticket: €7,50 excl. registration fees (access to a specific day during the week
Not able to make all nights? no problem. A WEEK ticket allows you access to the sessions for 4 weeks.
We are looking forward to it!
HOI Foundation & Dyslexie font