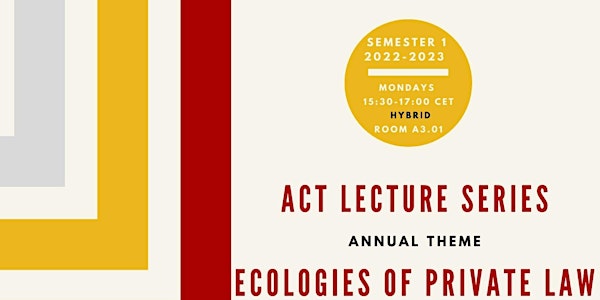 Ecologies of Private Law Lecture Series: Beatriz Botero Arcila
The Place of Law in the Urban Digital Age
About this event
About the Lecture Series
For the upcoming year, we have selected 'Ecologies of Private Law' as an umbrella theme. This theme is inspired by an ecological awareness that is growing in contemporary law and legal thought. This is paving the way for a new legal paradigm that underscores both the inherent interconnectedness of modern society and the blurring boundaries between humans and non-humans. Our Annual Theme for the 2022-2023 Lecture Series examines the place and role of private law within this emerging legal paradigm. Through a sequence of lectures focused on key private law institutions and practices, we seek to identify, understand, and assess how private law interacts with its diverse ecosystems and contributes to shaping socio-economic, and political relations among (non-)humans within these ecosystems, in the context of shifting normative expectations and social needs.
About the Speaker
Beatriz Botero Arcila is an assistant professor of law at Sciences Po and an affiliate at the Berkman Klein Center at Harvard University. She holds an SJD and an LLM from Harvard Law School and is a lawyer from Universidad de los Andes, in Bogotá, Colombia. Her research and expertise focus on data governance in urban environments. privacy law, data governance policy, municipal law, platform governance, and legal theory. Recent work has explored modes of data governance in smart city projects, the sharing economy, and Covid contact tracing apps. Her current research explores how surveillance technologies adopted to provide public security both in Europe and the US and how they interact with other public interests (i.e. civil liberties) and institutional frameworks and incentives.
Professor Botero Arcila has worked with and advised fintech companies, human rights and civil society organizations and has lectured in law and the digital information economy in several universities. She is also co-founder of The Edgelands Institute, a pop-up institute incubated at the Berkman Klein Center focused on studying digital surveillance and cities.
Lecture Material
To be announced closer to the date
Practicalities
This lecture will be hybrid, in REC A3.01 and on zoom. Upon registration, you will receive a zoom link in your confirmation email.