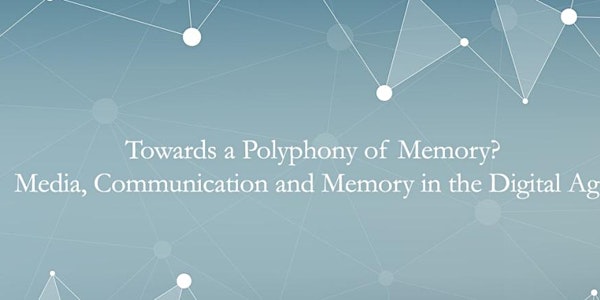 ECREA Lugano 2018 Pre-Conference: Towards a Polyphony of Memory?
Event Information
Location
Lugano Campus of the Università della Svizzera Italiana
Via Giuseppe Buffi 13
CH – 6900 Lugano
Switzerland
Description
ECREA 2018 Communication History Section Pre-Conference:
Towards a Polyphony of Memory? Media, Communication and Memory in the Digital Age
31 October 2018 at the Università della Svizzera italiana in Lugano, Switzerland
Organised by dr. Manuel Menke, University of Ausburg, Germany & dr. Berber Hagedoorn, University of Groningen, the Netherlands
Fees:
Crowdfunding for Special Artist Performance and Live Q&A: Please contribute an amount of your own choice, however, a minimum of €10 is highly appreciated.

PhD ECREA members: €25 (including service charge: €27,41)

ECREA members reduced (if also registered at ECREA's main conference): €35 (including service charge: €37,89)

ECREA members: €75 (including service charge: €79,83)

NON-ECREA members: €125 (including service charge: €132,25)
Crowdfunding for Special Artist Performance + Live Q&A:
We are collecting funds to enable the screening of the film Memories wrapped in paper planes by media artist Antonia Rehnen and a Live Q&A at our pre-conference with the artist herself. We would like to encourage you to donate an amount you feel is suitable for that cause when you register. Memories wrapped in paper planes (for trailer see: https://vimeo.com/241294298) visualises the reuse of film footage and reveals the inner mindscapes of the artist, which together, display the human mind as a limitless territory of discovery. Old black and white films form backdrops for animations by Antonia Rhenen, which, accompanied by the spherical sounds of the band Kinetophone, reveal scenes that resemble a daydreamscape.
Conference Programme:
For our full day programme, please visit: https://ecreahistorylugano2018.wordpress.com/program/
Memory is constitutive for the formation of social entities and a crucial carrier of social and cultural identity. In media saturated societies, commemoration and cultural memory are inherently linked to representations and negotiations in a variety of media, technologies, devices and practices. However, with the rise of digital communication the main agents and institutions of preserving and communicating memory find themselves complemented by new voices. Hence, it becomes a pressing task to shed light on the role memories play when digital communication further blurs boundaries – not only between the private and the public but also between the local, national and global – yet, without neglecting the existence or rise of new social, geographical or economic demarcations. The pre-conference aims to assemble scholarship on media, communication and memory from across Europe and from a multiplicity of backgrounds. It is our aim to stimulate theoretical discussion and to give new impulses for research on communication and memory. Beyond theoretical conceptions and empirical case studies we are also interested in contributions reflecting the methodological aspects of memory research in a globalized and digitally connected world as well as problems and potentials of digital traces and "found data" as sources for studies on communicative memory in the digital age.
Confirmed Keynote Speaker: Dr. Theo Mäusli.
For more information, please visit our conference website: https://ecreahistorylugano2018.wordpress.com
Date and time
Location
Lugano Campus of the Università della Svizzera Italiana
Via Giuseppe Buffi 13
CH – 6900 Lugano
Switzerland
Refund policy