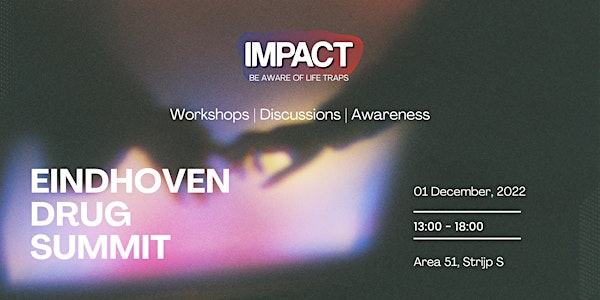 Eindhoven Drug Summit
Attend various workshops, talk with experts, stay informed and be aware of what impact drugs have on the community.
When and where
Location
Area 51 Ketelhuisplein 5617 AB Eindhoven Netherlands
About this event
Let's make an IMPACT together with @fontyspulsed and @fontysuniversity 💫
Attend various workshops, talk with experts, watch short movies, see art installations, stay informed and be aware of the life traps. 🕳️
Over the course of a few decades, the Netherlands has become more and more famous internationally. But unfortunately not (only) because of our international successes in the sports fields, in politics or education. One of the main things many countries outside of the Netherlands know about us is that we are the #1 export producer of XTC. As this production is clearly not legal, it is connected to a large portion of the crime in the NL. 💊
Especially the province of North Brabant is known for its connection to drugs and crime, as much of the actual crime related to drugs is happening all around us. That's why we're going to make an impact on this problem during this challenge. We will get an opportunity to truly help the community around us and inspire and inform those in dire need of more handholds regarding this topic.
The themes/bubbles for this summit are focused on the impact of drugs and crime on:
1. Society & Street Culture
2. First responders & Healthcare
3. Politics & Economics
4. Secondary school teachers and pupils
5. Higher education teachers and students
6. Urban Environment & Nature
7. Families & Community
Check us now! https://www.eindhovendrugsummit.nl/