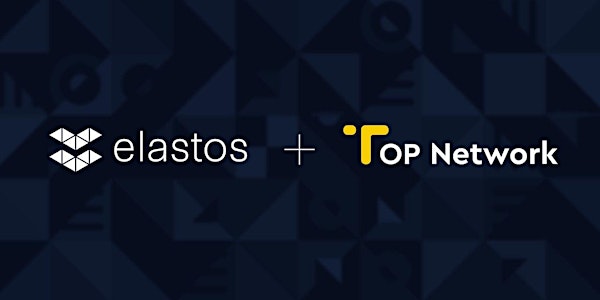 Elastos + TOP Network Meetup Bangkok - Learn to Build on the Modern Internet
When and where
Location
Launchpad 139 Pan Road, Silom, Bangrak Bangkok, 10500 Thailand
Description
Learn to Build on the Modern Internet with Elastos & TOP Network
Elastos is building The Modern Internet, where end-to-end encryption comes standard, the blockchain is easy to use and you can develop using a straight-forward set of APIs.
This will be a general blockchain focused meetup on how to build on the Elastos Ecosystem, with partner TOP Network. We are especially inviting:
- Current or interested developers that want to build dApps
- Blockchain enthusiasts
Program:
14:00 - 15:00 Walk-in & socializing
15:00 - 16:00 Clarence Liu, VP Development/Lead Evangelist on Elastos
16:00 - 16:15 Break
16:15 - 17:00 Noah Wang, Co-Founder of TOP Network
17:00 - 17:15 Q&A
17:15 - 18:00 Socializing
Practical: This event will be held in English and drinks are included.
This meetup will introduce:
- The Elastos Ecosystem as an established platform to develop your dApps. Get started quickly with intuitive APIs, a 1500+ TPS Ethereum sidechain and a wide variety of useful services.
- Cyber Republic, one of the first decentralized community governance models to trial on-chain governance, control over allocation of funds and council elections open to everybody.
- Developers have a say in how the platform evolves, so even if there is some lock-in to Elastos there is a pathway to adapt it to best suit the community
- Funding for startups, projects and frameworks through the Cyber Republic Consensus (CRC).
Also introducing our partner TOP Network!
TOP Network is a high-performance blockchain with a powerful array of service-level infrastructures, including the world's first decentralized cloud communication services. TOP aims to build a business-friendly blockchain platform that handles real-word business of any type, size or volume.
Three communication apps, Dingtone, SkyVPN, CoverMe, with over 50 million users will be ported to TOP Network upon the launch of TOP and generate huge volumes of transactions in the TOP ecosystem.
So far, TOP has already released the first decentralized VPN - BitVPN.
Mainnet will be launched in June and TOP will have a blooming ecosystem in 2019!
We are looking forward to getting in touch with the Bangkok blockchain/startup/tech community.
Until the 23rd of March!
Team Elastos
https://www.elastos.org
Team TOP Network
https://www.topnetwork.org