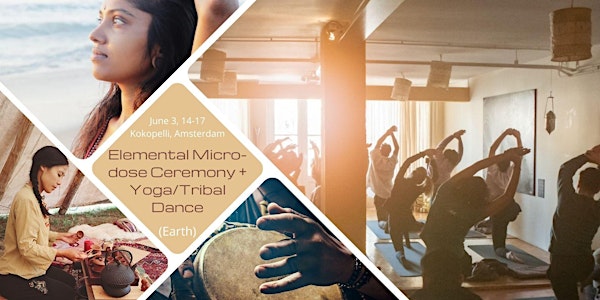 Multiple dates
Elemental Micro-dose Ceremony with Yoga/Tribal Dance
Join us for our elemental (water
By LeilArts - Ancient and Mindful Tea Ceremony
Date and time
March 19 · 2pm - June 3 · 5pm CET
Location
Kokopelli 12 Warmoesstraat 1012 JD Amsterdam Netherlands
Refund Policy
Contact the organizer to request a refund.
Eventbrite's fee is nonrefundable.
About this event
Beautiful beings, we're again excited to invite you for our third elemental (EARTH) Micro-dose (truffle) Tea Ceremony and Yoga/Dance on June 3 from 14-17 in Kokopolli, at the beautiful heart of Amsterdam overlooking the peaceful canal water.
This is the 3rd edition focusing on the element of the Earth in our monthly sequence of all 5 micro-dosing events/elements. This event is specially created with the powerful new moon energy to connect deeper via the plant medicine and natural elements, and to connect with the Earth, the ground and our roots that connect us all with our collective consciousness.
This combination evolved from exploring different ancient practices, the passion for mindful living and expanding our consciousness through plant medicine and sacred movements. We enjoy supporting each other and co-creating a healthy, mindful, creative and loving lifestyle. Tea Ceremony + Microdose + Yoga Flow and Dance with Drums = synergetic combination that deepens the experience in a powerful way. We will start from the Tea Ceremony as the ancient ritual to gradually open up the space, followed by a gentle yoga flow then naturally integrating into a powerful tribal dance circle guided by shared group frequency, music, drumming as well as meditation to feel the effect of the micro-dosing substance.
꩜ Truffle can have many benefits from creativity to flow, self reflection, increased focus and body awareness, and sensitivity. Micro- or mini-dosing is a conscious way to explore how psilocybin can benefit you in a safe way for a curious and positive mindset.
꩜ For this mindful and ancient Tea Ceremony ('Cha Dao' 茶道, the way of nature through tea), Leila will present specially selected tea (with around 1g of truffle in the tea per person, but more or less is also available) and guide you through a tea meditation that cultivates mindful process and fluid flow in a harmonious atmosphere that connects us and improves our taste bud and all the senses, health and soul.
꩜ Yoga is an ancient system of physical, mental and spiritual practices. Yoga includes breathing techniques, body postures and other meditation methods. It is often referred to as "meditation in movement", intending to cease the fluctuations of the mind ("yoga chitta-vritti-nirodhah", as written down by Patanjali around 200 BCE). Yoga is a meditative process of self-discovery and liberation. It connects us with the natural flow of our body and breath, and inspires a peaceful state of mind, by helping us to realise our detached witness consciousness. A beautiful, soft and slow yoga flow - and guided by Devie Jagesar (certified yoga facilitator).
The intention of the event is not to guide you in a deep psychedelic trip but rather to micro-dose together. We will guide you through an elemental micro-dosing sequence together following a monthly structure for more stable and long-term growth. Advice and tips will be shared for proper micro-dosing. Aftercare and integration to daily life will be shared and discussed.
𝐏𝐫𝐚𝐜𝐭𝐢𝐜𝐚𝐥 𝐈𝐧𝐟𝐨𝐫𝐦𝐚𝐭𝐢𝐨𝐧:
☼ Ticket: €35 (for one-time event). It includes Tea, Substance, Ceremony and Yoga flow.
For each event, we focus on one natural element, combined with embodiment practices such as ancient yoga, dance, movements, and sounds.
☼ Entrance time: 13:30
☼ Starting time: 14:00 (please arrive earlier); Closing time: 17:00
☼ Good to bring:
✓ Comfy clothes to move your body
✓ Water bottle (water and tea available)
✓ Optionally some fruits/nuts to eat and share afterwards. We advise a light lunch at least 1 before so the microdose can unfold more unaffected and pure in your body.
𝐘𝐨𝐮𝐫 𝐅𝐚𝐜𝐢𝐥𝐢𝐭𝐚𝐭𝐨𝐫𝐬:
∵ Devie is currently based in The Netherlands, where she works as a Clinical Psychologist, Embodiment Coach, Yoga Trainer and Sacred Sexual Bodyworker. She holds intentional community gatherings and ceremonies, and is here to hold space for the awakening of Love for all parts of us. Not only is she passionate about supporting individuals toward greater Aliveness, Awareness, Love and Embodiment: her ultimate mission is to hold space for the reclamation of freedom and (sexual) empowerment for the women of India, because that's her soul's deepest calling. For more information on her offerings, or to work with her 1-on-1, visit www.deviejagesar.com.
∵ Leila is an artist for plant medicine and intuitive arts, hosting a variety of ancient Tea Ceremonies such as Kung-fu, Matcha and zen meditation. She also has years of experience exploring plant medicine and psychedelics. You can often find her facilitating sacred journeys and co-creating a safe and connected space. She has dynamic backgrounds from both the East and West, from Corporate/Business world bridging with Spirituality, sharing her vision to exchange our gifts, and integrate ancient wisdom into a mindful and balanced lifestyle.
For any question, feel free to ask in the event or via DM. Looking forward to co-creating this special experience with you again! ✨
Much love,
Devie & Leila